The Art of the Anti-Strat. All you need to do is grab a couple matchsticks to wedge your eyes open throughout the night, devour 50 demos of tomorrow's opponent, then note down all your findings down in excruciating detail, resulting in a behemoth Google Doc resembling a 1000 page 17th century history book. Sound familiar?
Rule number 1 of all preparation: Whatever you produce has to be read and understood by every player on your team. If the result of your preparation is cumbersome, too lengthy or difficult to interpret, you have already fallen at the first hurdle. Your preparation has to be clear and concise, and remember, your players may need to refer to these notes whilst matches are live.
Will's Anti-Strat Template
Simplicity is the name of the game. Let's take a look at a basic template for laying out your preparation: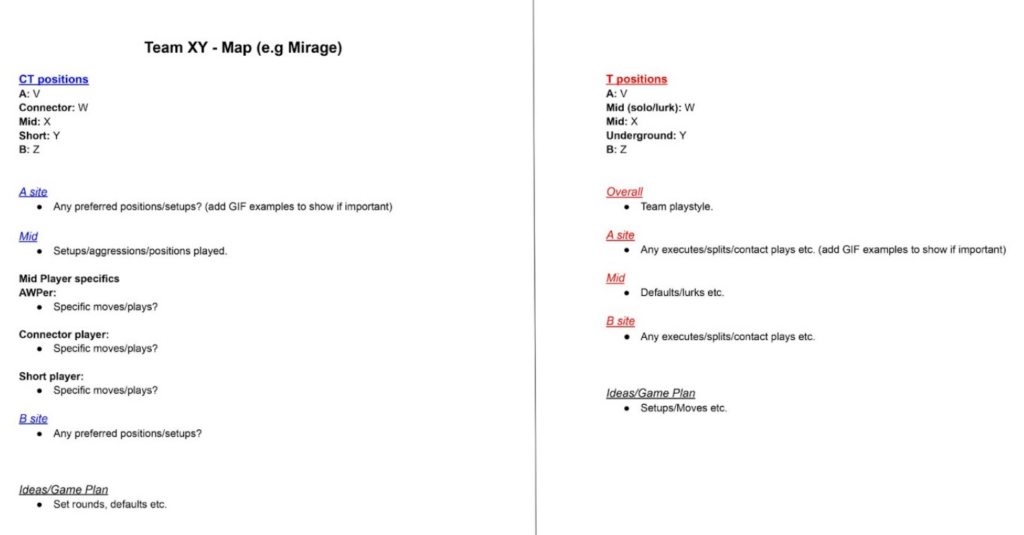 Things to bare in mind:
When watching the opposition, you should be looking for any reads/tendencies (

when they do certain defaults or when they might do a specific strat

) that can be exploited, but also defaults/strats/positions that your team just needs to be aware of.

(For more advanced teams)

You should go through the same process and look for reads or tendencies in your previous games to try and stop other teams exploiting you. 

Try to keep anti-strat documents brief with bullet points and use GIFs to show examples in more detail when needed.

The Coach + IGL would usually carry out the overall anti-strat but individuals should still do their own research into the enemy team and be aware of your own tendencies etc. 

How detailed you want the game plan would be team preference. Some teams may want to have the first 5 rounds set before going into the game, whilst others want the game plan to have only a few round ideas (that you feel can work based on the preparation) to be used whenever during the match.
Allan's Example Preparation
Let's delve into an example and see how this template could be used in practice. Our team is up against Team Alpha and we are getting ready to play Inferno. The IGL and Coach sift through a few demos and discuss how best to approach the match before noting down their findings. Crucially, everyone on the team is encouraged to do some preparation for themselves and can add to the document if they find anything of note.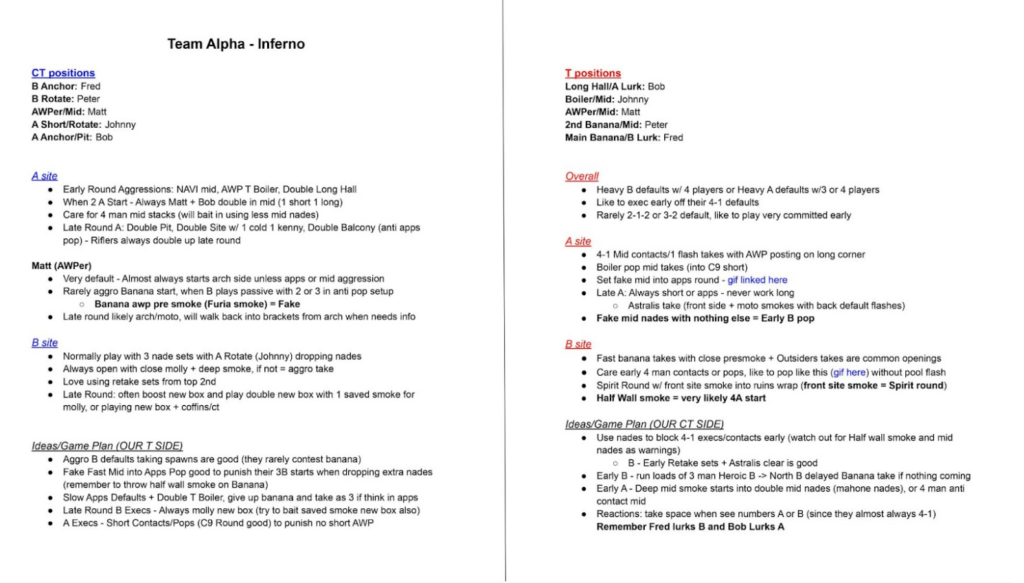 Noesis and Refrag are great tools for preparation, but regular demos and discord streaming to prepare together is perfectly sufficient. The more experienced you are as a team the easier it will be to use shorthand names for setups/aggressions/executes, be careful though, everyone needs to understand what's being written down.
For less experienced sides, I recommend focusing more on yourselves and your own game plan rather than your opponents. Of course, in some matchups it can be hard to find any relevant demos, in these cases you can still find value in laying out a rough game plan and making sure all your players are up to speed with the defaults/executes/setups/nades etc.
In this example the game plan is fairly brief with only a couple ideas to use on top of our team's regular playstyle. For your team it may be worth going into more depth, and you could have distinct sub headings for different areas on the map, akin to how the research on the opponents is set out. The more people contributing towards preparation the better and we recommend continually asking yourselves questions like: They often do this over here, how are we going to play against it? Or, when we see this, how are we going to react? 
Use the template and example above as inspiration for how to lay out your own preparation. Often, less can be more in this domain, and going through the process of creating a preparation document is more valuable than the end product itself. 
You can find all the assets used in this resource here.