Esports Wales who have competed in past qualifiers for the European Championship 2022 Closed Qualifiers will now be able to show their true ability as a wild card in Bali this December.
As previously mentioned this squad featuring mostly different players competed over the summer in the European Championships 2022: Closed qualifier; whereby they were played in a group with Spain and Slovakia. Sadly they were not very successful even after a second chance in the Play-In, and were unable to make it through to the LAN Finals which were held in Romania. At this LAN Final we saw BLUEJAYS the representatives from North Macedonia take the crown over Team Ukraine, winning the lion's share of the $25,000 prize pool plus an instant pass to the IESF WEC 2022 Finals hosted in Bali.
After this poor showing online it seemed like all hope was lost for this squad in 2022. But after coming through as a wild card pick we will see representation from the British Isle in Bali to battle it out against other regions' best.
Stay up to day with all the CSGO World Esports Championships action here –

🏴󠁧󠁢󠁷󠁬󠁳󠁿- @emyr_green
🏴󠁧󠁢󠁷󠁬󠁳󠁿-@kyzercs
🏴󠁧󠁢󠁷󠁬󠁳󠁿-@RyanWalli
🏴󠁧󠁢󠁷󠁬󠁳󠁿-@TrouzzCS
🏴󠁧󠁢󠁷󠁬󠁳󠁿-@m0gcs #CymruAmByth | pic.twitter.com/SgKPGZ4Fhj

— Esports Wales 🏴󠁧󠁢󠁷󠁬󠁳󠁿 (@EsportsWales) November 28, 2022
UKCSGO Reached out to John "SlayerJohn" Jackson the CEO of Esports Wales about how they got this chance:
As Wales is part of the European Esports federation and members of the international federation we had a wildcard for a team and player to get through.

We selected CSGO as we run teams for multiple years it was the best shot and also efootball which has Cerith who won bronze in cec and top 16 in Euros.
In this tournament, the first stage is a group formate, in which there are seven groups of four teams, and one group of three. Funnily enough Wales is actually in that group of three, and with the top two teams advancing to playoffs, Wales will just have to best either Ecuador or Luxembourg  to advance.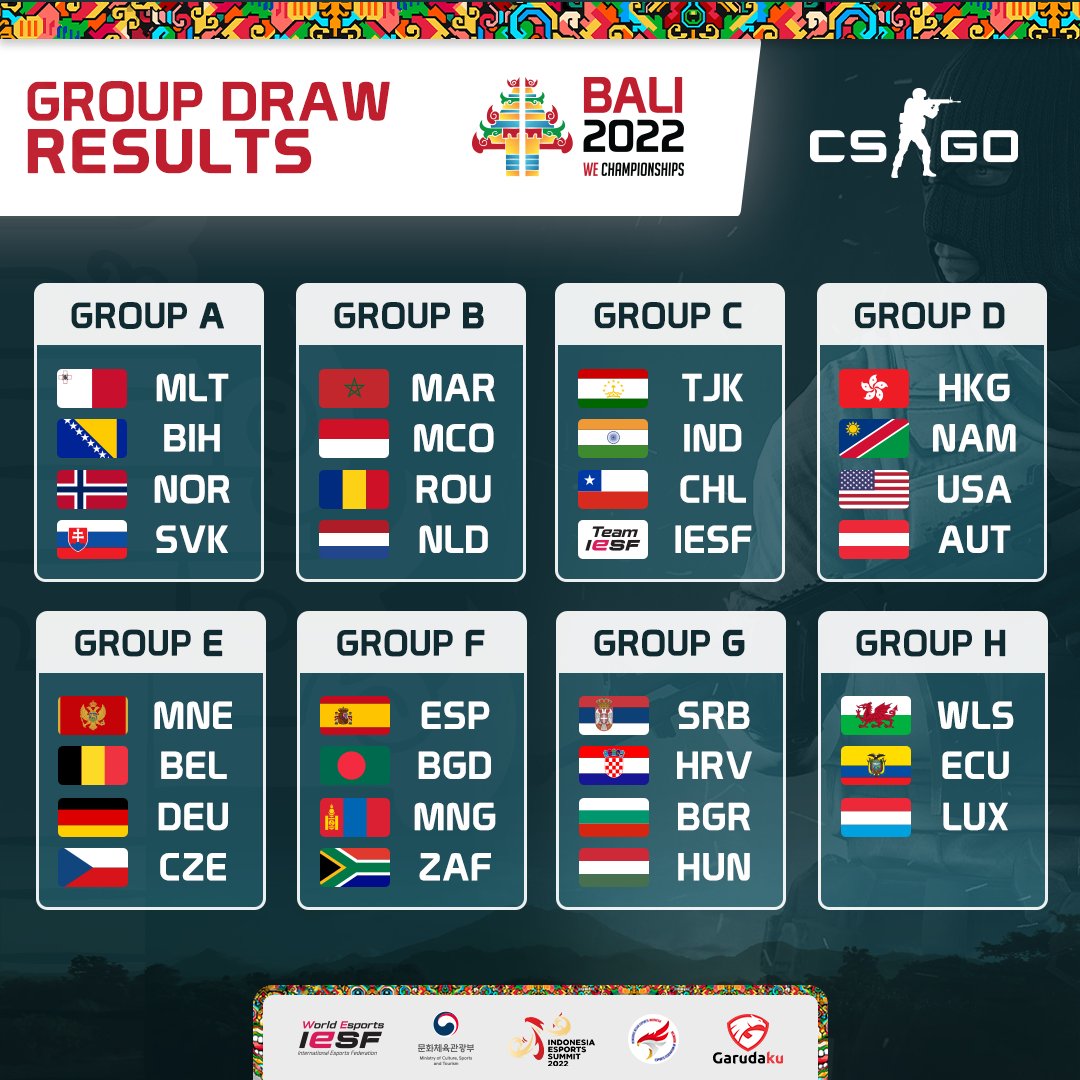 SlayerJohn also spoke about this expectations for the team going into this event:
My expectations, while we would love to go out there and win the tournament that's not the position where Wales is at the moment, more realistic goals are that a very good performance will mean that both teams get out of their groups.

I know that that may be coming across as a negative view, but some of these other countries are playing with a lot more funding than Wales, and doing it for a lot longer.
The Welsh team are a mix of players that you might know and some that are looking to surprise us all. First off is i69 winner Emyr "eMy" Green, the wielder of the big green for eMasters, which in the UKCSGO experts power rankings where rated sixth best team in the UK who are currently competing in ESL Premiership and ESEA Main. Moreover, the likes of Morgan "m0g" Butler who has been playing at a high level of UKCS for years, competing in many a Gorsnevor CSGO LAN battling it against the likes of Endpoint and Chetz alongside eMy in the Grosvenor CS:GO Championship Season 3.
The squad also have lesser known talents such as Kieran "kyzer" Thompson, the captain of the team who is currently in ESEA Intermediate, playing for XCalibure eSports, boasting a 7-6 record. Kyzer has linked up with Ryan "Walli" Walters before too, the IGL of the squad playing under the Ex-Prosperity banner with the likes of Freddie "GrimyRannarr" Pritchard.
Walli is a seasoned LAN player, not necessarily garnering the same level of success like some of his team mates, but will be comfortable playing in this LAN environment where some of the more inexperienced LAN players in his squad may struggle to readjust. Having this older IGL in the team will be good to calm nerves when times get tough.
To round off the roster they have a dark horse of this Welsh squad, Ryan "Trouzz" Trouse who is battling it out in Main similar to his teammate eMy but sadly not having the same luck. After being promoted last season, Team ExSaN are 3-10 and are on the face of relegation.
Fundamentally this experience for the players could possibly be the biggest tournament they ever play, going to Bali to play Counter-Strike is amazing not only for them, but for our scene as a whole, giving us a team to support. SlayerJohn talked further about what it means for Esports Wales.
This is our first year of Wales competing at these international physical events, and we are confident that we have selected the best players Wales have to offer.

We are going out there to show what Wales can do, that Wales can compete on the international stage as we showed in the commonwealth.
The hope with this opportunity being seized by Esports Wales means that there should be more in the future for the region, SlayerJohn rounded off with:
I myself hope that the governments will see our success and open more financial support and allow us to continue to grow the scene in Wales. I also want the players to see the opportunities that playing Esports Wales can give them, and next year there being more competition for the national team spots.
The team will be flying over this week to Bali to start their games on the second of December at 14:00 GMT +8 against Ecuador and then the next day at the same time against Luxemburg.
The full roster is:
Emyr "eMy" Green
Morgan "m0g" Butler
Kieran "kyzer" Thompson
Ryan "Walli" Walters
Ryan "Trouzz" Trouse