The third week of the ESL Premiership has concluded. With ReflexEU still looking to bag their first win of the season and many teams hoping to move up the table, week three was filled with Counter Strike action.
Despite leading the premiership heading into the third week of competition, it was revealed that The Pensioners were unable to field a full roster for their match against Wind and Rain meaning Wind and Rain were awarded a 16-0 victory by default.
Buzzkill v Fierce Esports
Instead, it was Buzkill facing Fierce Esports in the opening match of the night. Buzzkill quickly gained the early advantage but Fierce managed to halt their momentum with a solid 2v5 retake to win the seventh round. A closely contested Train match eventually went in the favour of Fierce Esports, who advance to the top of the table thanks to The Pensioners' earlier forfeit.
What a time to come alive for @FierceEsports as @AstrooCSGO and @frei_cs deliver a crucial 2v5! 👌 #ESLPrem

📺 https://t.co/8oeFnsXC0F pic.twitter.com/Qf3OM2pm3B

— ESL UK (@ESLUK) May 27, 2019
Team Endpoint v ReflexEU
The second game of the evening would see Team Endpoint do battle with a ReflexEU team still without a win this season. Endpoint grabbed the opening T rounds on Overpass to solidify their advantage in the early stages of the game. With both teams being in a winning position, Endpoint managed to close out the game in the final round to take it 16-14, handing ReflexEU their third loss of the season.
Another week and another ace for @teamendpoint's @znx_cs, finishing up with a nice clutch. 🙌 #ESLPrem

📺 https://t.co/8oeFnsXC0F pic.twitter.com/5QUEjTcpEw

— ESL UK (@ESLUK) May 27, 2019
London Esports v Royals
Rounding off week three was London Esports and Royals. With both teams heading into Inferno with the same win/loss record, it was all to play for. After a strong start from London, the Royals managed to reduce the deficit and end the half one round behind their opponents.
London soon found their rhythm on the T side and moved their way towards match point but the Royals were still hanging on, taking round 28 to stay alive in the game.
Who doesn't love seeing a big spray down vs eco ft. @emincsgo! 👍 #ESLPrem

📺 https://t.co/8oeFnsXC0F pic.twitter.com/PiBxsfYO97

— ESL UK (@ESLUK) May 27, 2019
Despite the resurgence from the Royals, London Esports were able to hold on to take the victory.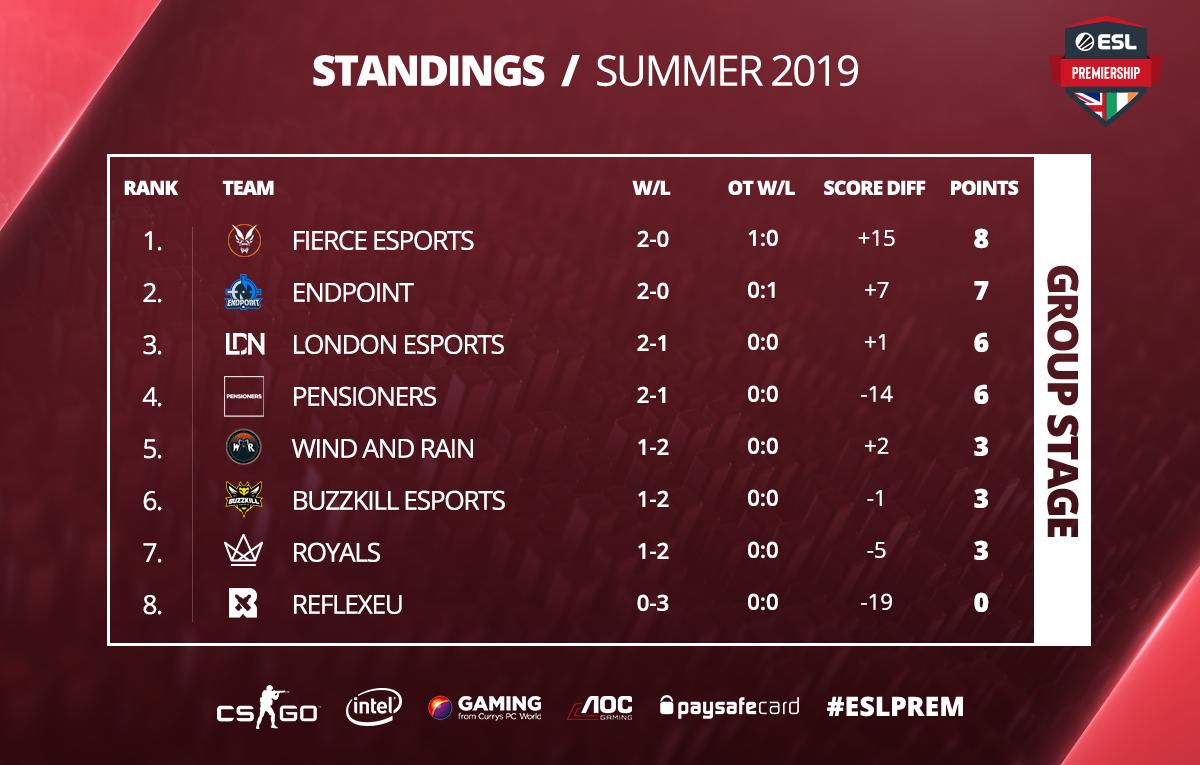 At the end of week three, Fierce Esports leads the way with Endpoint hot on their heels in second place. The mid-table battle is extremely close with Wind and Rain, Buzzkill Esports and Royals are all tied on three points ahead of Reflex who are still without a win after three matches.