British Counter-Strike has always been on the back burner when it comes to the international stage, however, this seemingly is all changing, and the effect of this has rippled throughout the scene. fnatic, who has most notably made the quarter-finals at IEM Rio Major and claimed the trophy at Elisa Masters Espoo are led by William "mezii" Merriman and coached by Jamie "keita" Hall. They are creating a healthy culture within the UK CS scene and breaking down old stereotypes.
Before we go further, to explain the change occurring within the UK we have to first understand the old UK stereotypes. A phrase thrown around a lot is that the UK scene is a 'Treehouse', but what does this really mean? Notoriously, there haven't been many high-level players, and when there have been they were not often helping players lower down the scene, forming a very tight nit group, restricting the trickle down of knowledge. This made it fundamentally hard for upcoming UK players to progress quickly within the scene.
Now leading from this theme to the modern day, is there a change within the scene? Is there still this 'Treehouse' culture causing a lack of progression, or is there a more unified front coming out from the UK which is embodied on the international stage by people like mezii?
Does fnatic's success internationally have an effect on UK CS regionally?
Firstly, with the idea of the trickledown effect fresh in our minds, let's start with the top. In August of 2021, both mezii and keita were added to the fnatic roster. They have had a rocky road during their time on fnatic, to say the least, however, now it seems that with fnatic's success, it's also having substantial repercussions on the UK scene as a whole.
When mezii was added to the squad, he garnered praise from the likes of Mohan "launders" Govindasamy, who in an HLTV experts article he said:
Coming into Cloud9 we had high hopes for mezii because he seemed to be a kid with a good head on his shoulders, a lot of talent, and really good reviews. If this guy was a restaurant, he would have five stars on Uber Eats. The number of people that have said good things about mezii, I would have to take off my shoes to count them.
The reason for the importance of this quote is something I want to highlight specifically, that is mezii being a role model in the UK scene which is what we have lacked historically. This marks a shift in the scene's portrayal on an international stage.
After the combustion of fnatic's UK core, our scene was getting pulled through the mud, but now having this key figure battling out against the best in the world gives an obvious and visual figure for players coming up the ranks to look at. Moreover, this is the first time we have had a UK player in the Major playoffs since the FACEIT London Major in 2018. Where Rory "dephh" Jackson under the Complexity banner, and Owen "smooya" Butterfield playing for the German organisation BIG both made the top eight, which demonstrates the significance of his achievement. This was then reinforced by fnatic going on and winning Elisa Masters Espoo, an A-tier event, cementing fnatic as a top 10 team in the world.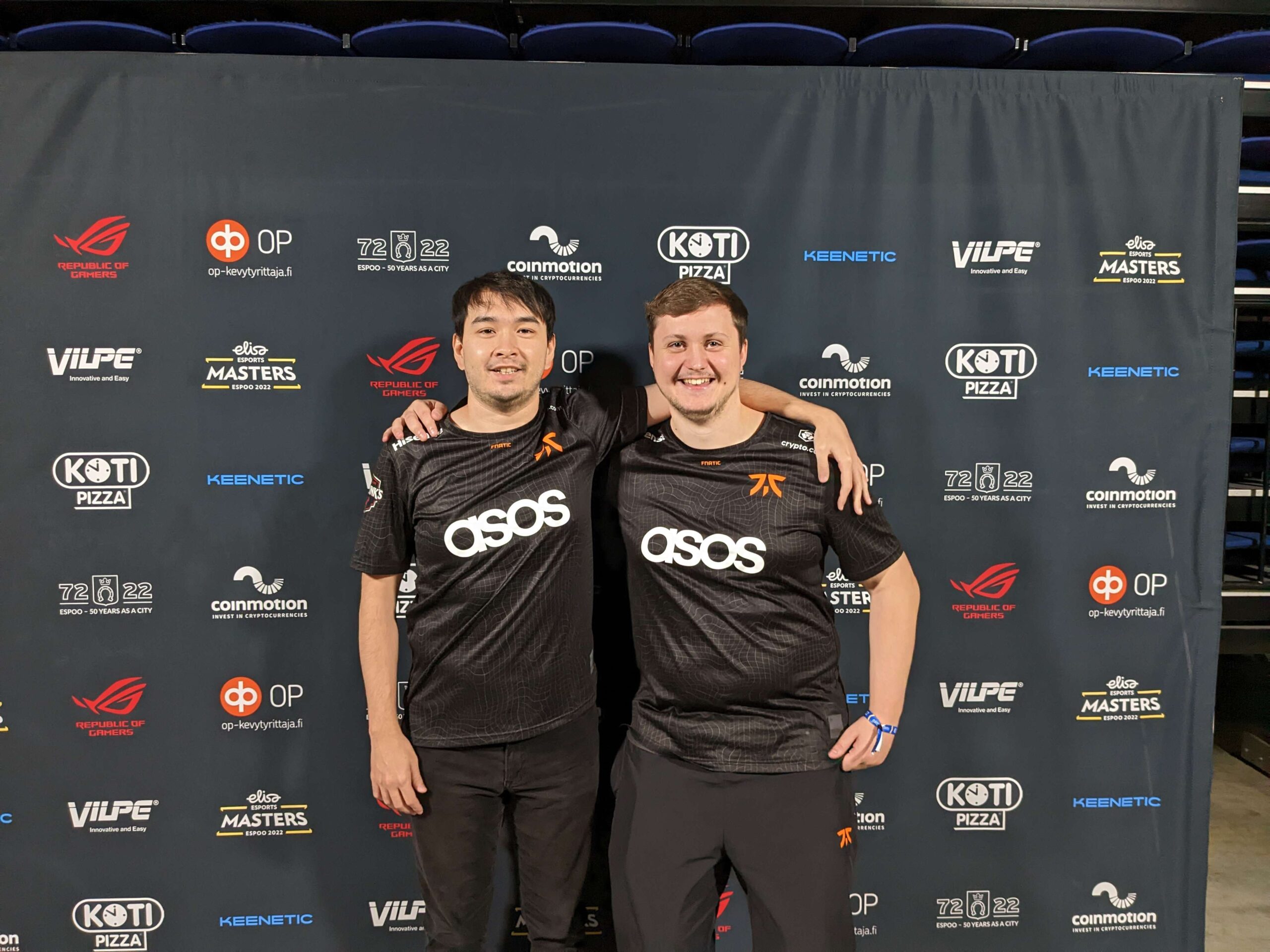 A shift from the old to the new
Having figures such as mezii and keita winning a trophy of this magnitude against some of the best players in the world means much more than just a simple trophy for the collection and money in their pocket. Their win is a sign of what dedication and application can achieve, something mezii has received plenty of plaudits for, because of which he is now regarded as a great role model for aspiring players. The scene notoriously has had to deal with bad attitudes and people being hindered in their careers by themselves, and now we have something a little different.
In an interview he did with HLTV after winning the tournament in Espoo he stated: "I came through the UK scene and I'm trying my best to put that on the map and make sure I highlight individuals, where I can, to give them the motivation boost to keep on working and get European teams to give another look at UK players." It is easy to say things like this and not be acting upon your words but mezii does. In an interview he did with UKCSGO he mentioned the likes of Cai "CYPHER" Watson alongside Sebastian "volt" Malos.
I feel like it is really important for players like CYPHER and volt who are showing some really promising signs to continue working and not be afraid to ask questions. I know CYPHER does that, he asks me questions.
These players are now setting themselves up to be role models for other players within the scene, by having consistent achievements internationally and putting up some really impressive results. With volt playing in ESL Challenger League this past season for fnatic Rising, and CYPHER with his British team making deep runs in tournaments, such as CCT Central Europe Series 2 most recently, just missing out on the finals.
One topic that mezii touched on as well is not feeling scared to reach out. This is another shift in the attitude within our region. We have these good coaches and players succeeding but also doing it in such a manner that they are still helping and accommodating their region. Someone who we haven't mentioned yet is GamerLegion's coach, Ashley "ash" Battye, who was present at the Major and at Elisa Masters Espoo alongside fnatic.
ash spoke on the CS Out here Podcast, which had an episode specialised on UK CS, about how if anyone wants to message him that they are more than welcome to. This sentiment was then echoed further by the likes of Max "MIGHTMAX" Heath, the IGL for Endpoint and a key figure at the top of our scene.
Something I do not want to discredit is all the people that are deep within our scene helping out players all the time. There are so many accounts recently of people helping each other out, and offering support when needed. There are so many excellent role models that we can look up to, but the main point I am trying to make is that having these players who are  playing in one of the best teams in the world is more visible. This then means people who are not necessarily known within the UK sphere, can still see someone flying the UK flag at the top. mezii is thus flying this flag with dignity and respect, both publicly and privately is helping UKCS out, and this is where the major shift for me occurs.
I reached out to Oscar "LVN" Levin the IGL of 7AM who has most recently played in ESL Premiership, qualified for Beyond Winter Invitational, and has previously travelled across the pond to play at Fragadelphia 17 for his thoughts on the topic. He said;
In general the high level players in the U.K. at the moment are doing great for the scene. Mainly in the past I feel we have had players who are playing at a high level but were giving the scene a bad reputation as well as not being good role models to look up to. Where, as now especially as an IGL myself, both MiGHTYMAX and now mezii who are both very approachable for advice and tips, can be players other aspiring IGLs can look up to as well. Not from my own personal experience but as well coaches at the high level (ash and Keita) are also great role models as well as being approachable for help as well.
Currently there is a genuine healthy ecosystem being set up, with a trickledown effect when it comes to knowledge and help. In previous years you could ask anyone the same question, and mostly every answer would be "there is simply no one to help us", however now the environment is changing.
I think people especially since the pandemic are now progressing to build a unified scene and leaving and the players who have reached out and asked for help are now the ones doing well, rather than putting it down to "luck", "life games" or "a Honeymoon period team". People are not finding one single solution to magically cure all our past problems, but rather many small steps in the right direction.
I also reached out to Luke "EMPEROR" Ingram, an ex player and coach in the UK scene, currently coaching 7AM for his thoughts:
For a long time the concept of sharing and helping one another was a hurdle to many people didn't want to jump. There was never any validations for it was purely due to ego's or simply not wanting to seem "try hard" but with there being a "new" top end of the scene players attitudes have shifted, its multivariable as to why but from birds eye perspective its almost as if the scene's hubris fell down a peg and is more at the mid level now hence why the teams at the top are steadily rolling forward but less names are coming up. Obviously, there is still a lot more that can be done and doors that should be more accessible but purely from the angle of players approaches the scene vs the scene from 4/5/6 years ago are totally different spaces. The biggest change to me from when I was a player to now as a coach is players although still not perfect aren't chasing instant gratification as much.
An issue that was definitely a problem in the past is aspiring players are severely put off when known UK influencers who haven't had their ears to the ground for a while force their opinion, which ends up being counter productive.
UKCS at an all time low

— Owen Butterfield (@smooyacs) August 29, 2022
Even in recent history, we have had players representing our scene who would do more bad than good.
Someone like smooya who has a massive following, putting tweets like this, depicts a really clear pattern of people putting down UK CS while being on the outside and not truly understanding what is happening. This then ties in with what I was talking before.  Having more role models like mezii, who are constructive and use their platform to show the positives of the UK scene, is far more productive.
In the HLTV interview mentioned earlier he said, "I think it's up to other people to say if I'm a role model but it would mean a lot to me if people did see me as that." With him now being one of the leads of British Counter-Strike Association (BCSA) and if he continues to help people like he has and give people a platform to succeed when its offered, then I don't see why he shouldn't be seen as a role model.
British Counter Strike Association creation
On the 12th of December Allan "Allan" Hender alongside mezii, MiGHTYMAX and ash created the BCSA which has the aim to help UK teams. The board have already begun talking in length with eight of the top UK squads, while also making a discord where anyone can join, and anyone can ask for help to improve. Moreover, the association is also aiming to talk to tournament organisers to create a healthier environment for UK players. This on paper is a good idea, but I am cautiously optimistic about this project.
The direction I hope it takes is it does what it is intended, and actually creates a really healthy ecosystem, with a nice trickledown of knowledge throughout the tiers. On top of this, if they actually make breakthroughs with TOs then this will turn out perfectly, especially with iseries being such a hot topic at the moment.
Closing thoughts
Through all the differing perspectives on this topic, there is a clear indication that the scene is progressing. The level of competition surrounding the top teams is suddenly a lot more fierce, and we do not have these Goliaths that are standing so far above everyone else. You have teams like Endpoint who, yes have just won their 8th ESL Premiership title in a row, but it is was far closer than in previous years. With their run to victory not being as clear cut, losing to Chetz in the group stages on Ancient, one of their better maps and then narrowly closing it out against Vierpio 3-2 in the BO5 finals.
Internationally, we have more and more teams making they way up the ESEA ladder, getting HLTV appearances and playing well in European tournaments. From my perspective, with the BCSA being founded, and everything seemingly on an upwards trajectory, we should only be finding more success. Success which is being spurred on by the UK having a team like fnatic, led and coached by Brits, competing against the best teams in the world and winning international events.
Is this the most competitive UK CSGO has been?@MiGHTYMAXcsgo spoke to casters @Ne0Kai & @EU_ReTr00 after the game pic.twitter.com/qaYLZOp1fS

— Esports News UK (@Esports_News_UK) December 4, 2022