This article will be focused on the second half of the Swiss stage and playoff bracket. We covered the first half in our previous article so be sure to check that out prior to reading on. However, the scoreboard for the first half of the Swiss stage can be found here:
…And whilst we're at this mid-point at the #UKM_CS Open, let us all take some time to briefly review the Swiss bracket standings at the end of Round Three.

Whilst four wins are required to confirm a spot in playoffs tomorrow, the remaining matches will be used for seeding. pic.twitter.com/Ksn0Ko15X9

— UK Masters (@UKMasters) August 24, 2018
As teams need four wins in the group stage to secure their place in the playoff bracket, this is the first round that teams can confirm their place. Teams that go through still play all six rounds of matches to determine seeds for the bracket. In this stage Business 5, Team Unique and Fnatic Academy won their matches meaning those teams are 4-0 and in the playoff bracket. They will continue playing to fight it out for seeds going into the bracket. A notable upset in this round was Heads Down Thumbs Up pulling off a victory against Rasta.
All the round 4 scores are as follows: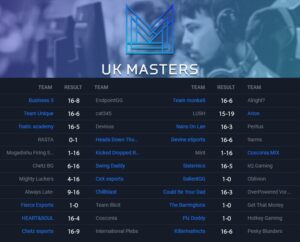 In the penultimate round of matches, teams fought for their place in the playoff bracket without having to rely on a final round of matches. Teams securing their spot in the playoffs here include Endpoint, Devious and CeX, Chetz and Fierce esports. Notable teams that have not yet secured a place in the playoff bracket are Cat345 and Rasta who have a final chance in the sixth round of matches.
All the round 5 scores are as follows: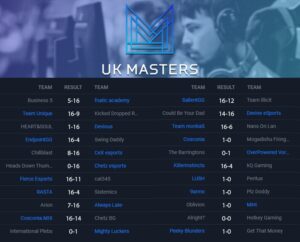 The sixth round of matches was the final chance for teams to secure a place in the playoff bracket and for everyone to determine their seed. Team Unique took the win against Fnatic Academy meaning they secured themselves the number 1 seed going into Saturday. Rasta and Cat345 eased into the playoffs. The other matches were hotly contested with Salient, Swing Daddy, Heart&Soul, Mighty Luckers and Kicked Dropped Reformed taking victories and making their way into the playoffs.
All the round 6 scores are as follows: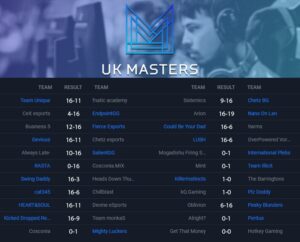 The playoff bracket will commence on Saturday as teams fight for their share of the £30k prize pool. The bracket going into Saturday is as follows: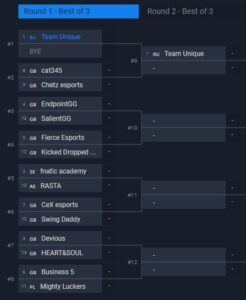 All the teams that didn't make it into the playoff bracket will play in an Intermediate tournament where the winners will take home £1,250. There are still a lot of prizes for everyone to fight for!
Be sure to keep up with our Facebook & Twitter pages for updates throughout the weekend of i63.