The Next in Line roster headed by John "Dutchy" Holland has disbanded, the Scottish in-game leader has confirmed this to UKCSGO. This follows the withdrawal of key figures and a struggle to compete in ESEA Advanced following their promotion from ESEA Open last season.
not quite ready to say I am quitting, but won't be competing in a team environment so will be stepping down from @NiL_Esports to focus on uni, work and life in general.

GL to the rest of the guys, and a big thanks to NiL for always being so supportive.

Cya around 😘

— John H (@dutchycsgo) August 29, 2023
The project formed earlier this year as "Made in Kettering", and after some initial roster instability, coalesced around former EKO Esports team-mates Dutchy and James "Mad" Debono, along with former dripman Richard "Zulu" Wood, and the Finish duo of Otto "ottob" Virtanen and Kasper "kappe" Lampinen, after which they signed to the nascent Scottish organisation. The highlight of their time together was their run to victory in ESEA Open Season 45, which saw them jump straight to ESEA Advanced after a victory over ESC Gaming in the final. They also finished 3rd at EPIC.39 with Andrew "Wolfie" Allan standing in for Mad.
On the server, Next in Line faltered in online competitions; they did not manage to qualify for ESL Premiership Autumn 2023 play-offs, exited the UKIC Summer Invitational in the quarter-finals and have not achieved a single win in ESEA Advanced. Off the server, they were hit with the double blow of Mad retiring and Dutchy taking a step back from team CS to focus on university studies, and with nothing to play for, have gone their separate ways. ottob has been seen playing with UKCS alum Edgaras "entz" Luksas on Allstars Gaming, while kappe and Zulu's futures are unknown. Their roster on the Teams page of ESEA League lists only a level 3 profile marked "leaguehold10", although clicking through to the page shows the players as well as Belgian player Steven "Stev0se" Rombaut.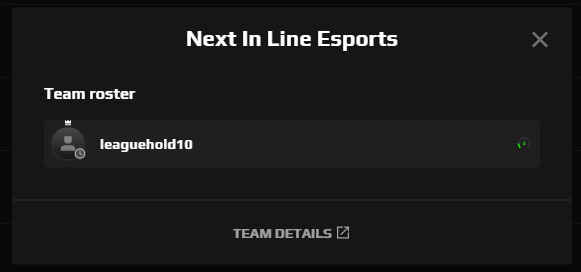 It's another blow for UKCS seeing a disband from a team that started so well. When Next in Line found success in ESEA Open, hopes were high they could do damage in Advanced – similar to how Heaven & Hell did last year. Now the project Dutchy started earlier this year has dissolved, hot on the heels of Team 7AM doing the same. From a strong position at the start of the season with 8 UK-majority teams in the division and three-quarters signed to orgs, the picture is now distinctly more mudded.
Next in Line were:
John "Dutchy" Holland
James "Mad" Debono
Richard "Zulu" Wood
Otto "ottob" Virtanen
Kasper "kappe" Lampinen
Rasmus "dezt" Nyström (substitute)
Bartek "Distu" Janaszek (coach)