It's the week of epic.NINETEEN and in traditional fashion, UKCSGO will be there at the event to help cover the event in greater detail. Taking place in Kettering, at the Conference Centre, the UK is throwing together around 16 – 20 teams for this final epic.LAN event of 2016.
This could be one of the strangest epic.LAN events to date, with literally none of the following players in attendance, Ian "Immi" Harding, Brandon "Weber" Weber, James "redSNK" Littlewood, Jake "jakem" McCausland or, hell, any form of Neil "Neil_M" Murphy's mix teams. This is the first time ever that the top end of the scene has not attended, and we still have over 16 teams heading to epic.LAN this weekend.
This does mean that for the majority of newer and fringe teams at the event, there will be a great opportunity to cement themselves in the history books and pull off a big LAN win in the UK. Those teams being Dragon Esports, Radix eSports, Bulldog eSports, Dog Gaming and others that are in attendance. It is a unique opportunity for those teams and the players that are within them to actually go ahead, open up a door to greatness and provide us with new champions in the scene. It could effectively springboard all these players to potentially going to insomnia59 in December and having a great chance at tearing the doors down on the UK's elite and winning the iSeries title similar to Team CeX's run at insomnia56 last year.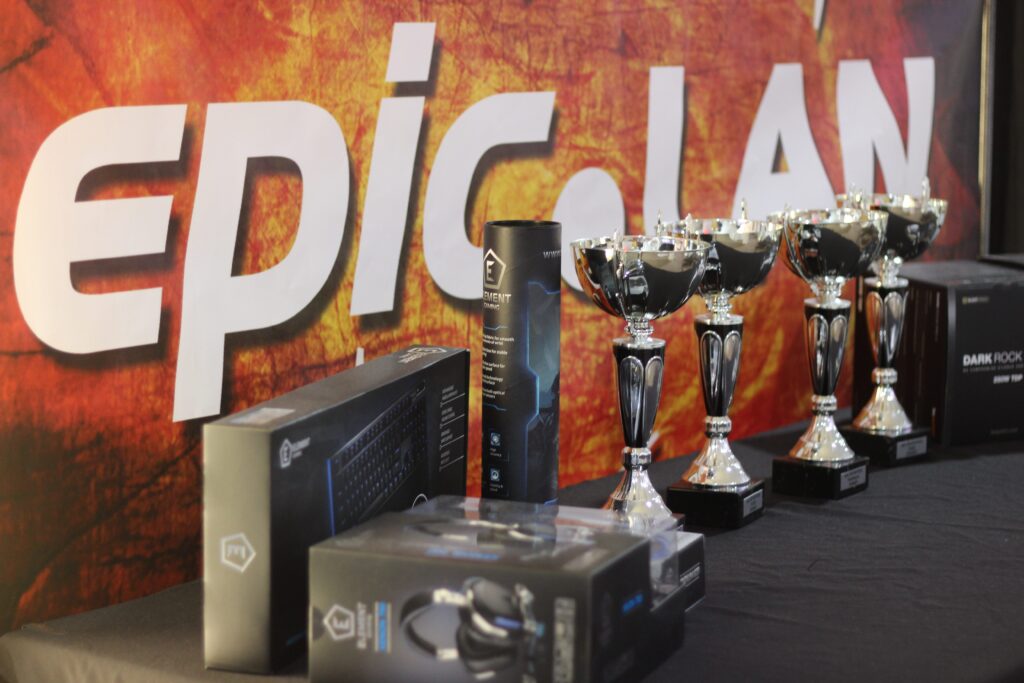 The Preview
Team uFrag
adamxoxo, HypeIzBack, Pommey, Zeo, FrankstaH
I will try not to talk this team up too much, because in the past when I have done previews, I have been accused of over exaggerating the presence of Team uFrag at LAN events before. They did however slump to their worst position they've ever had at an iSeries before at insomnia58 in August with a 13th – 16th finish there. Since that event they have managed to bring on board the services of Nick "zeo" Jugjeewon, Harry "Pommey" Crawford & Frankie "FrankstaH" Rini in their recent roster changes. On paper, this is probably one of the most talented teams at the event.
I say this because FrankstaH is an old school breed of talent to bring in and Zeo, well, we have seen some pretty good evidence that Zeo can let rip in the UK. Zeo was of course part of the Perilous.FURY mix team that went to epic.EIGHTEEN and managed second place, so he knows a thing or two about getting to the latter stages of an epic.LAN event.
Online form is always a bit of an issue for Adam and his lineups, as they tend to play themselves as the Virtus.Pro of the UK scene, where online they can be utter rubbish, whilst at LAN they have two different modes, the Virtus.PLOW and the Virtus.PLOD. Both of which tend to happen between maps. If anything, Team uFrag look like big contenders at epic.LAN despite not qualifying for UK Masters or even the UK Premiership. It's been a tough pill to swallow, but here is a rare chance for Team uFrag to put things back into perspective and claim their first LAN especially as all the big boys of the scene are now out in China this week.
Prediction: Top 3 material, if not potential Champions.
VATIC Gaming
logzii, JDD, fisher, dUdLeY, HoodLuM
Another potential team that can do well here at epic.NINETEEN this weekend. This was the former Enemies In Disbelief team, with some major changes to the lineup that did incredibly well at insomnia58 and surprised everyone. Out went Ajay, Jenko and Danceyz, and in came ESL UK Premiership Spring Season 2016 Winner, Dudley "dUdLeY" Morris, James "fisher" Fisher & Bradley "HoodluM" Ratcliff who all come into the lineup. With that, they also managed to join an organisation in the form of our funny friends over at VATIC Gaming.
This lineup, again on paper, looks to be one of the stronger teams at the event. A combination of Dudley & fisher, tends to be quite dynamic, and saying that, Dudley tends to perform marginally better with James at his side, both of which have played previously for Reason Gaming. Logan & Josh seem to have been together for what seems ages, whilst Bradley brings something new to the table in this lineup.
Similar to Team uFrag's story, VATIC have proved underwhelming in their ventures online, they didn't qualify for UK Premiership, although they were still building their team at that point, whilst they failed to qualify for UK Masters recently when they got beat by Isaac's band of merry men, Generic Team Name in the final qualifier.
It is difficult to tell how well this new look team will do at LAN, but once again, they certainly do have the potential especially with a lack of the better players, to cause a fuss and play much better than their online form seems to suggest.
Prediction: Top 3 Material, if not potential Champions
DOG Gaming
ashhh, quiver, debaser, luster, Yoshi
Some of you reading this may once again, point out the obvious here…. who are some of these guys, why are you placing them up here, and why rate them that highly? Yeah you would be correct in what you are saying, Ash would certainly kill me for "talking up" his chances at LAN. These are the team I would consider "ace in the hole" material. They could come out of absolutely nowhere and smash every team going, and then come to a standstill at the end, or they could massively flop and get nowhere near Top 4 – 6. This team currently houses two former Team uFrag prospects with Harry "Yoshi" Witt & Ashley "ashhh" Battye, and of course, houses the ever so comical player in the form of Tom "quiver" Griffths. Meanwhile shoring up their ranks is Chris "debaser" Flynn formerly of Perilous.FURY and Joe "luster" Asquith.
Ash went to insomnia58 and managed a shock win over the Romanian team XPC.gg with his mix team of randoms. This was until they got defaulted due to missing POVs, which then got overturned because the Romanians wanted a rematch on another map, and eventually stomped them. It however meant that the Romanians went on the rampage and simply didn't get beaten, they never lost a map en route to the Final, and only lost one in the final.
Dog Gaming's recent form has actually been decent stuff, they didn't manage to qualify for either UK Premiership (as they didn't form until after the qualifiers had finished) or UK Masters but they have now won back to back titles in the last two ESL UK Contender Cups, and will be taking some of that confidence to LAN. The question for this LAN, is how well drilled will this team be going into LAN. Will they have an array of maps at their disposal and can they provide enough shocks to the system to break down both VATIC & uFrag's defenses?
Prediction: Top 4 material
Dragon Esports
kpiz, Jackdabes, neph, tesk0, zelyts
Probably one of the most interesting teams here at epic.NINETEEN this weekend. These guys have copious amounts of potential, to become one of the UK's shining teams and destroy everyone in the UK. However they do have their flaws, and that does in spades when it comes to teams who lack big experience at latter stages of LAN events. We haven't seen this team in action in it's current form at a LAN event, but we have seen some of their players go to previous LAN events with other teams and do average at best.
So far Dragon Esports did manage to qualify for the UK Premiership, but they were beaten by a spirited performance from a Jakem led Team Viral, and then downed by r0m's Vexstar team who have since got to the LAN Finals at MCM. It was a decent and solid performance from Dragon Esports but they will be looking to cause some damage here at epic.NINETEEN this weekend. Dragon had done just as well in UK Masters albeit not really qualifying, but they had some great runs, being beaten by HEINZ.UK over a Bo3 in Qualifier 1. In qualifier two though, they managed to shine a light on themselves when they took out Team uFrag (which could be a potential storyline heading into this LAN), before Brandon's Fish123 managed to push Dragon Esports away from the door. In qualifier three, it was another impressive run, only stopped by eventual qualifiers Generic Team Name. It was the nearly boys for Dragon Esports.
If they can overcome their mental fragility in the latter stages of these tournaments they could be destined for great things, however the jury is still out on this team.
Prediction: Top 5/6, maybe pushing Top 4 material.
Bulldog eSports
skuxz, Nukeddog, bmagic, kplus, wafu
These guys started their LAN days probably last year at one of our epic.LAN events, and I'm pretty sure they didn't do too great at their first opportunity. However since those days, they have got better and become one of the better fringe teams out there in the UK Scene. They rocked up to insomnia58 in August, and caused some interesting problems for teams, especially in the Elimination Bracket where they gave fm-eSports a real run for their money, nearly knocking them down to the lower bracket. However like most of our fringe teams in the UK, they seem to falter, and then respect for their opponents seems to sink in which leads to doubting their own abilities to close out a match.
If Bulldog can lose the whole "we give top players respect" attitude which many other teams suffer from, they could potentially be out there and dominating the scene with the likes of Dragon Esports. I mean this because these are the new type of players in the scene, and we need them to actually start pushing the scene to new heights. Practice and being well drilled as a team is only part of the equation especially in Counter-Strike. Being slightly overconfident, cocky and never giving your opponents respect in game is the other part of the equation of being successful at LAN, especially in the UK.
If this team can come into LAN with bags of confidence, then we should see them walk away with at least a runners up position, however they have a tough road ahead, and they need to be brash and abrasive to have any chance of breaking onto the podium.
Story-line to look out for here…. Bulldog beat Team uFrag (the old lineup anyway) at insomnia58, knocking them down to the Lower Bracket. Could Bulldog possibly repeat that performance here two months on? Or will Team uFrag manage to stop the rot and take out Bulldog this time if they meet?
Prediction: Top 5/6, maybe up on the Top 3 material.
Radix eSports
celld, MiSFiT, Luzuh, BrodyC, +1
Now here is one to really get confuzzled over. Since paying up for epic.NINETEEN early on in the booking stages, Radix have managed to change their lineup several times. They are effectively a mix team this event, and whilst I don't really put my faith in mix teams, if anything the UK Scene seems to continually show that mix teams can work their magic and cause a whole path of devastation.
They do however have some talented players in their lineup, including BrodyC who managed to be a part of the insomnia58 mix team spearheaded by Craig "onscreenlol" Shannon, WINNERS, who went on to finish in 5th – 6th.
Radix would have been put in the same group as both Dragon Esports & Bulldog eSports, but since they've changed their roster so many times going into this LAN, I do feel this will be their undoing and could cause them a few premature problems in the elimination stages.
It should be noted, that mix teams generally do quite well at epic.LAN, and whilst I am not dismissing Radix straight off the bat, the problem with any mix team is how they perform on any given day at the event. Sometimes they will be good, other times they will be absolute trash. This is why it can be incredibly difficult seeding UK LANs under the current "mix" culture.
Prediction: Top 8. Could push towards a potential 5th/6th finish.
Honourable Mentions
LEAVEITYEAH – Jacky, Jakey, Snodz, Sharpy, Banelor
Team Odin eSports – MontSta, jackblk, 5haBo, Kai, Dm_God
Mediocre.CS – Neggies, n0rris, Finui, Challister, r3tr0z
Late Night Techies Drive – KOGGGYYYY, Wraggy, HydRex, Miixer, THE_FID
That concludes our preview to the event, hopefully this weekend you will see lots of pulsating action, non stop drama, and great UK Counter-Strike. We will be at the event all weekend to cover it in greater detail and capture all kinds of interviews, match reports and photos of the event. There are 15 tickets still to be sold yet for epic.NINETEEN, still ample enough time for more teams to make it to Kettering this weekend, so why not head on over to the epic.LAN Website.
Make sure you stay tuned to UKCSGO.com over the next few days for full event coverage and photos. You can follow us on Twitter or like our Facebook page for all the daily news from epic.NINETEEN.