Andrew "Wolfie" Allan came from humble beginnings at the start of his competitive CS:GO career. Once a young upstart in the local scene in Scotland, now a promising sensation among even the top players in the UK.
His journey began with local teams, namely PowerYourAura and Team Penguin Overlords. At the age of 15, Wolfie marked his debut at a national level under the Aura banner by attending EPIC.LAN 26 back at the beginning of 2019 with a longtime teammate and fellow competitor of his, John "Dutchy" Holland. The team dropped out of the tournament in the group stage, chalking up a 1-5 W/L record.
Photo credits: EPIC.LAN
After an unsuccessful run in ESEA Open, Wolfie jumped ship to a roster with a wealth of experience in the olden days of UK CS, Team Penguin Overlords. Craig "cthreestar" Ewart, and Kyle "KYLEST" Stevenson were the two consistent figures in the team, who, alongside their efforts in ESEA, played regional tournaments across Scotland and picked up a win in Season 2 of the Scottish Esports League back in 2019. He continued to play alongside his fellow countrymen for the rest of the year, before deciding to continue his journey across the pond with some younger Scottish representation in the Aura camp.
Photo credits: Esports Scotland
The new year rolled around and in early 2020, Wolfie attended EPIC.LAN 29, again alongside Dutchy in a mix team. The team placed 7-8th overall at the event, notably beating a Ben "benzki" Price-led The Last Resort in the group stage – a result which prompted his eventual promotion to a spot on the roster for the next ESEA season. This didn't last very long however, with the roster dissolving after a disappointing 5-11 record in the ESEA Season, resulting in their demotion from Inters.
After some further tenures in Aura and Hypnotic with the likes of Earl "Earl" Stephenson and Jack "Gizmy" von Spreckelsen, Wolfie's first big break comes in the form of Endpoint Academy, a project announced by the org in association with current ENCE Academy coach, George "Whitey" White. The project went through a lengthy selection process, however, Wolfie was ultimately decided upon as one of the players for the roster alongside fellow brits Benjamin "Klay" Hurst, Joe "dexie" Demmon, Richard "Richardb0b" Brierly, and the Dutch player Kevin "vKeMPeN" Van Kempen.
It's time to announce OUR FINAL 5 for the Endpoint.ROG Academy

🇬🇧 @Klayjamin
🇬🇧 @dexieCS
🇬🇧 @Richardb0b
🇬🇧 @XpWolfie
🇳🇱 @vKEMPeN_csgo

Congratulations 👏

🎥https://t.co/0RbAp3Zs6p#NeverStop @ASUS_ROGUK pic.twitter.com/iFX95c6pWF

— Endpoint CeX (@TeamEndpoint) April 7, 2021
The team had good success in their inaugural season of Open, where they managed to place top 4 overall, landing them a spot in Main for the next season – setting the scene for their future, and attracting the eyes of the UK scene. Unfortunately, just before his debut in Main, Wolfie was benched from the roster after a statement from Endpoint, leaving him again looking for another opportunity to prove himself.
During his time on the bench, Wolfie took some time to participate in other tournaments to keep in shape, such as the Redbull Flick 2v2 UK CS:GO Championship. This was a tournament involving the use of custom made maps, where players would contest capture points in order to generate score, awarding a round win after reaching certain amount. Wolfie, along with Cole "fredfishoil" Hardy, took the event by storm with a flawless record in the group stage, as well as impressive individual performances to power themselves through the playoffs, ultimately winning the grand finals in a 2-0 fashion.
'grats to ThrowPogChamp, your #RedBullFlick UK Champions.

well deserved @XpWolfie @fredfishoil 👏

next stop ➡️ international play-offs for the chance to go to the Helsinki Invitational pic.twitter.com/dAEkPOQFyD

— Red Bull UK (@RedBullUK) September 12, 2021
It took a short while, but Wolfie had finally found himself a new home. This came in the form of a brand new roster, which is part of the core of the now ever-present 1PIN. Ryan "dox" Young and Oliver "leaf" Jackson, an iconic duo who date back to 2020 during their time under the Vexed banner spearheaded this roster, along with Kristian "Krs7N" Mladenov and Gizmy.
This team played under Heaven & Hell in Season 40 of ESEA Open, completing a flawless run by going 14-0 in the regular season. They fought their way through playoffs, and after a nail-biting Bo3 thriller against the Russian team SnusEaters, they came out on top 2-1 and placed 1st in the entire season of the division, landing themselves a place in ESEA Advanced for the upcoming season.
Photo credits: EPIC.LAN
With this newfound promotion, the team looked set to make a statement in their inaugural season of Advanced, however Krs7N suddently left the team for pastures new back in his home country with FATE. In response to this, 1PIN joined arms with Oscar "AZUWU" Bell, and picked up Tobias "shyyne" Sæther in order to free dox from the AWP, as well as to replace the core of Viperio's new pick-up at the time, Gizmy – bringing us to the most notable iteration of the 1PIN roster, which made waves in the playoffs portion of Advanced in Season 41.
The team took down some notable names in their lower bracket run, such as EYEBALLERS, led by CS:GO legends and major winners Robin "flusha" Rönnquist and Jesper "JW" Wecksell. 1PIN took them down in a 2-1 fashion and went through to the next round to take on the Portuguese opposition in FTW, also netting a 2-1 victory to take them to the next round, before losing out on further opportunities after a loss to Apeks. Despite not managing to secure promotion for the next season, Wolfie certainly stood out as the most impressive performer for the squad boasting a 1.23 HLTV rating.
1PIN continued their strong strides through Advanced, regularly putting up strong performances versus worthy opposition, and retaining their spot in the league. Despite their achievements in ESEA, Kayzr League and other qualifiers, a rigorous practice schedule was slowly whittling away at Wolfie, and along with extra commitments to work, it came to the point where it was too much to keep a handle on all at once. He ultimately decided to step down from the active roster of 1PIN, citing that he wished to take time away from CS:GO to help recover from burnout, as well as other mental health concerns.
This takes us to Wolfie's current iteration: a player who during his time away from the constant grind of competition has helped to stand in for Into The Breach in Beyond's Summer Invitational, leading to a 2nd place finish. He also stood in for Endpoint during the ESL Premiership Autumn Championship during the group stage and partly in playoffs as well, leading to the organisation's 11th title in the tournament. Lastly and most recently, he also took home the 1st place prize for Season 5 of Esports Scotland's Scottish Esports League.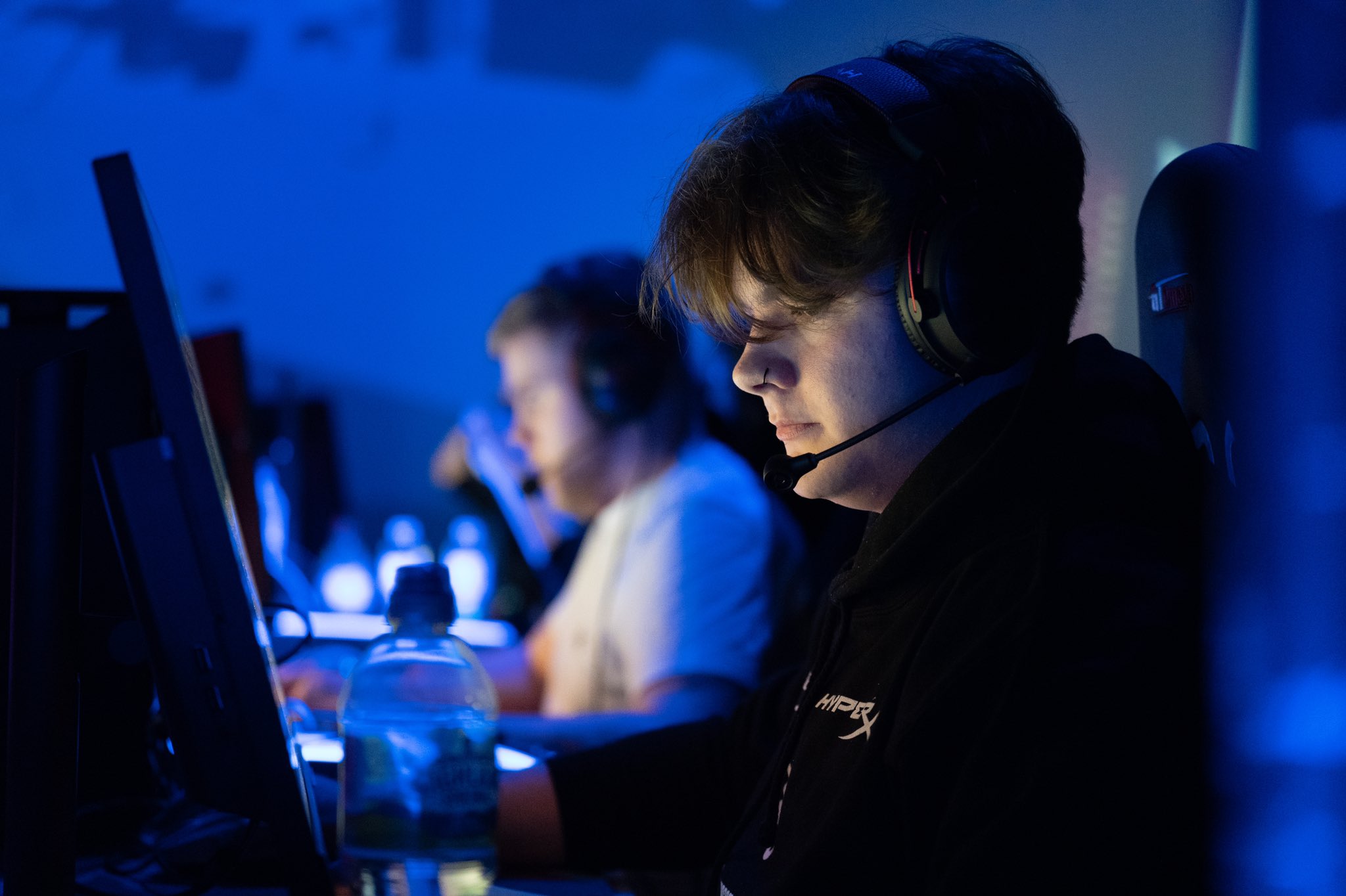 Photo credits: Esports Scotland
Looking forward to what's next, Wolfie has since announced his return to CS:GO, and his prospective career is just one opportunity away from being launched into the heights of both UK and international CS. As a player very clearly brimming with raw talent, in addition to a plethora of experience throughout his journey in UK CS, it looks like only a matter of time before his next big chance comes knocking.
After a long needed break I am now gonna be actively looking for another team again! 😄
I can play any rifle roles (except IGL)
I'm available 6 days a week (This can be changed)
All links will be below 🙂 retweets are appreciated thank you guys ❤️🔥

— Andrew (@XpWolfie) November 28, 2022