Arctic Raptors qualified for ESEA Advanced last season, and have been dipping their toes in the next tier of competition. Daniel "papp" Hart and his men hope that this step up to the next division will improve their other results as well, and the team had their sights set on EPIC.LAN 38 as a testing ground.
The Raptors have lived up to expectations at the event, as they breezed through the group stage and carried their form through the upper bracket of playoffs. The team couldn't overcome the obstacle in their path, Viperio, for their chance at making the upper bracket finals. Now, in the same position as they were at EPIC.LAN 37, papp's men must prove that they've learnt from their previous endeavours.
UKCSGO's Matthew "meffew" Godsell took some time to speak to papp about the team's success at EPIC.LAN 38 so far, his thoughts on the other UK teams in attendance, and how it feels to play under the blue banner at LAN.
*This interview was conducted before Arctic Raptors triumphed against ROYALS 2-0 in the lower bracket Ro4 to make it onto HLTV.
Unfortunately, you guys lost 2-0 to Viperio. It was quite a dominant showing from them, was this Viperio playing really well or was it your own individual mistakes?
I think the difficulty of playing Viperio is that as a team, they counter us quite well. The way they play, it's very different to ours. In terms of the map pool, they have got a stronger map pool. We do like Vertigo, but they love it which makes it difficult to play. We knew coming into LAN, if we wanted to have a deep run in the tournament then we need to be able to play it. We did beat them on Overpass recently, they were using bevve for that game but we want to try and pick that in the best-of-three. For map three, we were comfortable with Anubis but it didn't go that way.
In terms of the map pool, Ancient was updated in the last few months. It was one of your typically stronger maps, does this change affect how confident you are in playing the map?
The changes definitely were a struggle for us to adapt to. It was one of our favourite maps prior to the changes, especially with the update being around the same time as Anubis was added to the map pool. Going into Advanced, it was almost like having to learn two new maps again. I think we have adapted to Ancient now, we played it a couple of times this LAN. I don't think we played anyone who really tested us on it, but it's very T-sided. All of the maps are very T-sided at the moment.
You're up against ROYALS next, another mix team here at EPIC.LAN 38 – is this going to influence your choices going into the veto?
I think going into the veto, we expect them to go for Vertigo. We'll probably go for Inferno or Ancient, I mean typically they don't really like playing either. They are mixing this event, so I think we'll go for either and try to have Overpass as map three, which we beat them on yesterday in groups. It should be a much better veto than than our veto versus Viperio.
All the seedings panned out pretty well, in the end.
synergii spoke about your seeding of your group, which he was happy with, do you agree with the seeds in your group?
We spoke about it this morning, it's quite interesting because all the teams have predicted as they were meant to, according to the seeding, so with hindsight, I'd say the seeding was really good. When I saw the seeding at first, I thought the groups were a bit weird. You had: us, ROYALS and Clique. ROYALS have all played Advanced before, Clique are a solid Main team, and then in the other groups like Group A you had eMasters and a bunch of mixes. All the seedings panned out pretty well in the end.
We did that sort of quickly, Advanced second time, EPS instantly, and I said to the team that it's important for us to think "what's next?" – papp on Arctic Raptor's goals
Something else to mention, synergii also spoke about your goals for this event. Was this intentional or just not a primary focal point for the team?
It's something that I brought up when we qualified for Advanced. When we qualified last summer, the goal was always to get Advanced, to get EPS. We did that sort of quickly, Advanced second time, EPS instantly, and I said to the team that it's important for us to think "what's next?" So it's important to set goals. This event has been an important one, because it's sort of part two of the first one with XRAVEL. Now we're with Arctic Raptors and they've been really good for us, and we want to at the very least make it onto HLTV.
Our main goal as a team is to stabilize ourselves in Advanced. You don't want to bite off more than you can chew, and the next step is us showing our worth. We're not playing qualifiers at all, which is more of a scheduling issue than anything else. It's not that we don't want to, we have 5 day prac weeks in the evenings. A lot of these qualifiers are at 4 o'clock, you know? Then day two starts at 11am the following day, we wouldn't be able to play that.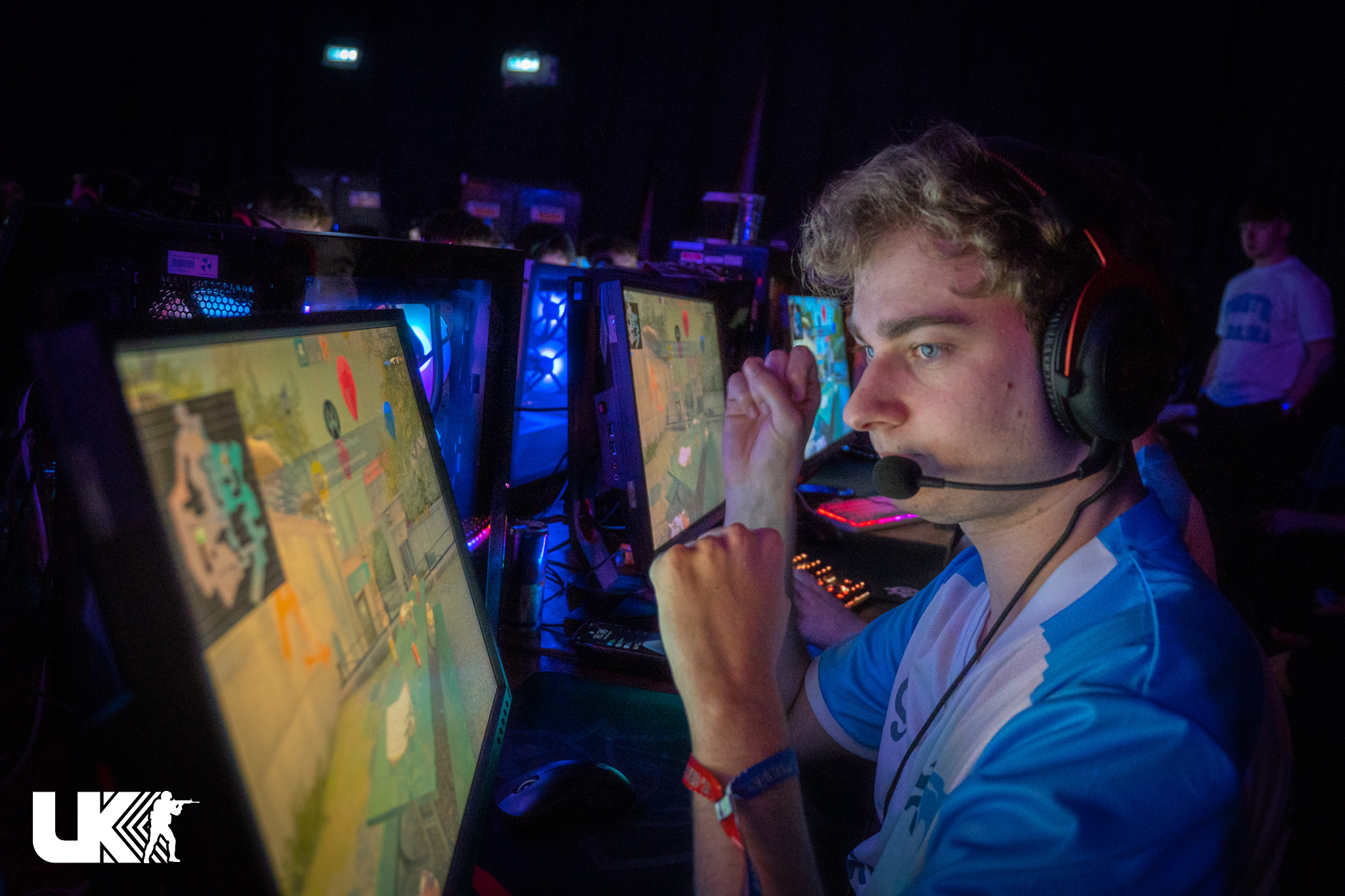 Thinking back to last EPIC.LAN, you're in the same position in terms of being in the lower bracket, and your only guarantee is top six. What is the game plan going forward?
It's in the back of our heads, we know where we are. We also didn't have that gruelling best-of-three with smooya's lot this time [laughs]. Viperio was quite a quick one, and we can get that out of our systems. We spoke yesterday… it was a long day yesterday, it was long for everyone. That's what I say to everyone, it's a long day and it's hard. If it was this event last time, I think we would've lost to Legates. Not because of a skill problem, but more in relation to the team's energy. We started so slow in the best-of-three, I took everyone outside in between maps and just tried to clear our heads.
If we didn't beat Legates, I'd say we'd have failed.
Speaking of that best-of-three, Legates won the first map on Nuke, 16-14 and Overpass was a close win for you guys. Did you expect them to put up such a big fight?
They're a good team, they've been a team for a while. We've played them many times before, Atrox knows them well. I expected them to give us a good game, but we get to play against much better opposition in practice week in, week out right? It'd be silly not to say that. The whole point is that we need to show our level, if we didn't beat Legates I'd say we'd have failed. It's no disrespect to them and they said the same in their interview.
It's true, the pressure is on us, there's no pressure on them. Losing that first map on Nuke, it was very close, but they did drill us on their T side. It was 11-4, and then we turned it around to 16-14. We did have a comeback, but even Overpass was quite close and that's one of our favourite maps.
You've got more staff than players at the event this time round. Does this add any pressure to you?
I'm the guy that speaks to them, I'm the face of the team to them. We normally speak before and after the event […] you want to do well for them, because you see how much they love it right? So you don't want to disappoint them. There probably is a bit of pressure with it of course, but they still show a lot of support. They do a lot for us and they give us a lot of resources, so it's important for us to come here and show them what they're paying for.
To round everything up, are there any teams who have impressed you this event?
I think eMasters have been doing really well, a lot of people have probably been a bit unfair about them. I speak to them a little bit, and they understood they were sort of underwhelming in ESEA. When it comes to LAN, they've probably been one of the better UK teams consistently. The old core of them won Insomnia 69, they got to the finals last EPIC.LAN, they've done really well this time with a close game against Coalesce… I think they've been doing really well.
Viperio are unreal, obviously they've come into the event on fire, making the RMR and stuff. I think in general, the scene is doing really well. It's got to be the best it's been in a long time, if not ever, right? I'd probably say Viperio are going to win, but I think a lot of people expect Coalesce to own them in the final, which is fair. Coalesce don't seem to be playing quite to the same standard as they have online, I don't think we ourselves play as well as we can online, but eMasters seem to know what to do.