The end of November and early December has been a busy time for the UK scene with the playoffs of ESL Premiership Autumn 2022 and the ESEA season coming to a close. During that time we have seen Viperio shoot up the rankings whilst the former Into the Breach squad retains its place at the top. This month has also been a time for newcomers, as Clique and TheSmileyBoys make their way into the top ten for the first time.
An important thing to note is that these votes were put in before the most recent UKIC Beyond Invitational.
What are the UKCSGO Power Rankings? The UK scene often struggles to consistently appear on HLTV for all its top teams, and with the regularity of roster moves, it can be hard to track how the teams in the scene are getting along. So at UKCSGO, we have been working to produce a monthly ranking system so you can keep up to date with how the scene is shaping up. This article marks the second month of the Power Rankings' existence and there have been major changes to the algorithm which we use to create the rankings.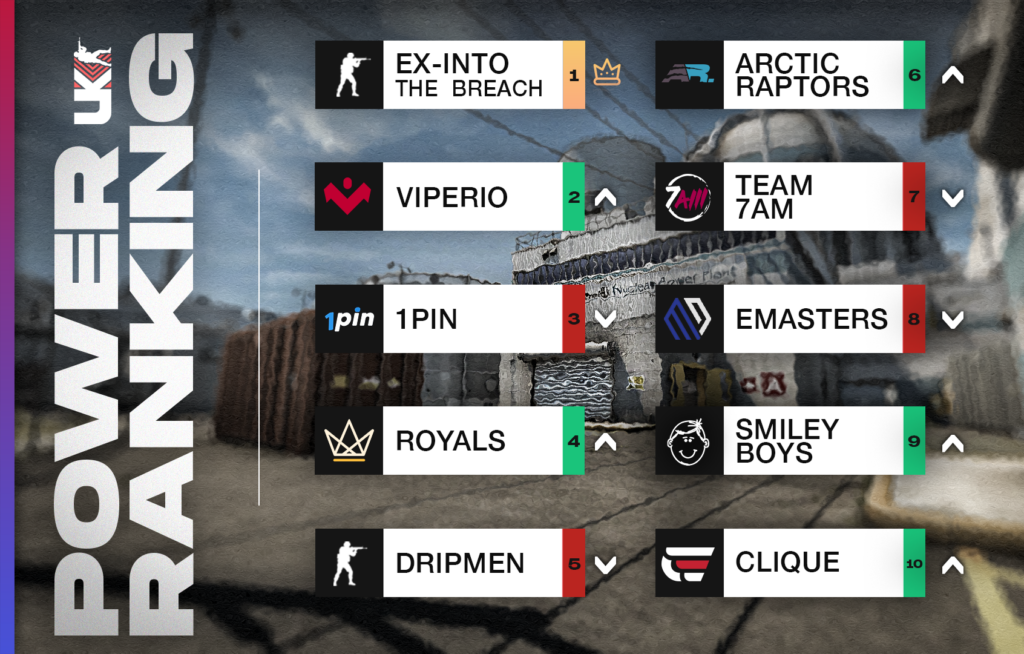 So how does it work? One player from every team, in ESEA Main or higher, with a UK majority, has been given the opportunity to vote on their top ten teams of this month. Those votes are compiled in an algorithm, alongside people considered to be UK CS experts with no affiliation to any voteable teams, to create a ranking of the top ten teams. This vote will take place every month. The results are the culmination of people's opinions and are in no way related to HLTV or any other ranking system.
#10 Clique
Fizan "Fizzy" Anjum
Lewis "Ziimzey" Coleman
Christopher "VireZ" Wegmann
Mohammed "Mophoria" Abbas
Elias "Rack" Karttunen
Sebastian "Wajk" Wikholm (coach)
Clique make their first appearance in the UKCSGO Power Rankings after a successful month for the team. In November, Clique was an outlier, coming in mere points away from the top ten, but this month they have finally broken through. This in large part due to their success in ESEA Main, whereby they made playoffs with a record of 10-4.
Unfortunately they were unable to make it through to Advanced, ending the season just one win away from promotion, but, despite this, they have come in at number ten on our rankings above Legates and NHR.
#9 TheSmileyBoys
Earl "Earl" Stephenson
Seth "Xeth" Jackson
Rhys "Rhys" Stumbles
Reegan "ReegaN" Ward
Benjamin "Klay" Hurst
"Stanoski" (coach)
2022 has seen the rise of new names and the revival of old names, with Smiley boys being a prime example of the latter. Throughout the year Earl has slowly but surely made his name as one of the top IGLs in the UK, mending a previously damaged reputation. Joining him on this journey is Xeth, previously of the now famed FAMBIT core, and Klay who is fresh off a break from Endpoint Academy fame.
The revitalization of these previously touted talents of the future, alongside the additions of Rhys and ReegaN, have netted positive early results. After the roster formed, they won nine back to back games to recover their ESEA Main season and qualify for playoffs. Their success continued in the playoffs, as they were one game away from making Advanced. Due to this explosion of good form, they find themselves ninth in our rankings.
#8 eMasters
Emyr "eMy" Green
ManHo "mrhui" Hui
Harry "moshi" Raines
Oliver "husky" Gollings
Jack "DeXter" Hepple
Fluctuation. This is what has defined the last month for eMasters. After a promising run in the summer that included back-to-back LAN finals, the core looked like it could finally break through and rumble with the best of the best but instead it has been plagued by a myriad of changes.
They most recently parted ways with ReegaN, and the lack of stability has clearly hurt the team's floor as they failed to retain their ESL Premiership spot after what can only be described as a disappointing season. Losing out to bottom-seed Leagates on the way to a 1-4 Record.
With the much-needed winter break underway, it gives the team a chance to re-discover themselves and adjust to their recent changes.
#7 7AM
Oscar "LVN" Levin
Herman "1Knas" Hattevig
Mason "Vacancy" Haines
Zy "yz0" Esponilla
Leo "Silence" Ingvarsson
Luke "EMPEROR" Ingram (Coach)
December has been a disappointing month for 7AM. Coming into the final month of the year expectations were high, they had come off impressive results in September and October and had the entire UK scene behind them whilst they were away in the United States competing at Fragadelphia. However, they were unable to keep flying high.
In ESEA, 7AM struggled in Advanced but they were able to keep themselves afloat finishing the season 6-8. The team also won't be pleased with their performance at ESL Premiership Autumn, as they were even able to make it to the playoffs, and will be competing in relegation next season.
Despite the losses, and the departure of AWPer William "zyyx" Sjögren, 7AM should still have a bright future. The team has recently signed an extension with their org, and, with an average age of 19, there is still plenty of room for growth.
#6 Arctic Raptors
Rasmus "zodi" Frølich
Mohamad "Ducky" Nourelden
William "wfn" Maskrey
Euan "synergii" Wilson
Seán "Atrox" Greene
Dan "papp" Hart (Coach)
Arctic raptors are the gift that keeps on giving. Ever since forming in the summer under XRAVEL they have continued to improve at an incredibly fast rate, riding a wave of momentum that has taken UKCS by storm. In just one month the squad has jumped from #8 to #6.
After just two seasons together and a single unplanned roster change, the squad has been able to do what achieve what the likes of eMasters, Clique, and TheSmileyBoys have failed at. Qualifying for ESEA Advanced. This, in combination with a top 6 playoff appearance at the most recent ESL Premiership, is why so many pundits are now ranking this team along the likes of Royals and Dripmen.
#5 Dripmen
Fraser "Frazehh" Sollom
Richard "Zulu" Wood
Josh "JAUSTERE" Philpott
Kirk "Tadpole" Stephens
Matas "Extinct" Strumila
It is hard to judge Dripmen too hard in the early stages of December. The former BLVKHVND squad recently underwent an overhaul, bringing in two new members and putting Frazehh on the AWP. During this period of change they have struggled with their results but have maintained a position from which they can build upon.
Dripmen have kept their spot in ESL Premiership and went 7-7 and in Advanced. For a team that is going through a rebuild, that is not something to frown upon. Although it did not effect this ranking – as votes were registered before – Dripmen have shown that they could reach that potential in UKIC Beyond Invitational. So, during this time of rebuilding, Dripmen have only lost one spot and now sit at #5.
#4 Royals
Kyle "Swaggy" Wilson
Edgaras "entz" Luksas
John "Dutchy" Holland
Timothy "tvs" Sjöberg
Xavér "xavi" Hebők
Andy "Mythix" Shek (Coach)
Royals, a team with UK core led by Swaggy has improved in their rankings due to a successful month. After being placed seventh in our last UKCSGO Experts rankings, and being seeded ninth in ESL Premiership, the squad saw this as motivation to prove to the scene that they are better than what they may be perceived to be.
The first step was making a dominant presence in ESL Premiership, and the squad did this by securing playoffs. In the process of making playoffs, they turned some heads when Royals bested the Titans, Endpoint. Whereby making it out of their group in third place over Dripmen.
Looking more internationally, they have had a shaky end to the month when the squad whose main aim goes into next year was to be promoted into ESEA Advanced was not attained. Royals fell at the last hurdle like many of their UK counterparts and will be having to go through the depths of ESEA Main next season again, unlike Arctic Raptors. A team with a lot of promise, ending the ESEA season one win away from promotion, they have shot up the UKCSGO Power Rankings and still have a lot to prove next year.
#3 1PIN
Ryan "dox" Young
Oliver "leaf" Jackson
Oscar "AZUWU" Bell
Tobias "shyyne" Sæther
Kristian "Krs7N" Mladenov
Sam "wilksyy" Wilks (Coach)
1PIN continues to put on impressive showings both regionally and internationally this year, the squad will be ending one place down since last month but still remains in the top three. 1PIN have dropped one place due to the rise of Viperio, which is ironic due to the budding rivalry between them. The two teams have clashed on so many different occasions, with the result going back-and-forth.
Following another topic we spoke about last month, this team, who have been crushing it are still unorged but this does not deter them, as they have still most notably made the top four in ESL Premiership after winning their group. The squad went 11-3 in the regular season of ESEA Advanced, and made the top four in the European Pro League Season 4, but were not able to make ESL Challenger League.
Viperio, 1PIN and Ex-Into The Breach are all competitive with eachother, but going into the new year, 1PIN have been rated in third place.
#2 Viperio
Marco "MMS" Salomone
Javier "Ping" Griffiths
Tom "arTisT" Clarke
Jack "Gizmy" von Spreckelsen
Callum "Girafffe" Jones
Ciaran "biscu" King (Coach)
After finally settling into their new home, Viperio has shown much promise in their performances and results. Coming off a second-place result in the ESL Premiership Autumn 2022 and their impressive performance versus Endpoint in the finals only serves to highlight their talent and potential.
Viperio also managed secured a second place finish in the Kazyr League, losing to 1PIN in the finals. Their form is at a high, which is further supplemented by outstanding individual performances by arTisT and Girafffe who have put up a 1.21 and 1.13 rating respectively in the past month for their team.
Despite a disappointing ESEA season, they have otherwise delivered on their promising results of the past months. These strong performances and high place finishes against top domestic competition has netted them the #2 rank in our monthly Power Rankings for December.
#1 Ex-Into the Breach
Adam "Adam9130" Ahmad
Cai "CYPHER" Watson
William "dobbo" Dobson
Alfred "RuStY" Karlsson
William "draken" Sundin
Gustavo "juve" Alexandre (Coach)
With the top three spots being heavily contested last month, it's even tighter this month. After not making it to the finals of ESL Premiership, and being dropped by their organisation, the future of this team is still heavily still in the air. However, Ex-Into The Breach have ended the year off positively by securing a place in ESL Challenger for the second time in this core's history, and they will most likely use that momentum to push them upwards into 2023.
Ex-Into The Breach have made it higher, in terms HLTV and European standards, than any other team on this ranking. They have confirmed their spot as the best UK team at the end of 2022 but they are as uncontested as before. Viperio and 1PIN are chomping at the bit and wanting to take their crown.
A recent lack of consistency in results has made this closer than usual, but they are still ranked as the number one UK core. It is clear people still believe that Adam9130's crew will be favoured due to their experience and will stabilise in the new year. All eyes will be on them to see if they stay as a core, and if so, reach new heights.