Things are starting to fall into place as week seven of the ESL Premiership comes to an end.
Reflex v Wind & Rain
While Reflex have booked their place in relegation, Wind & Rain had the chance to consolidate their playoff place with a win.
Early T-side rounds for Wind & Rain allowed them to get a solid 10-5 lead at the end of the first half.
Reflex showed signs of life and brought the game to within four rounds but Wind & Rain held strong to take Mirage 16-11 to secure their playoff place.
.@WindandRaingg steal away the round thanks to @Lauti_csgo and his Deagle! 👏 #ESLPrem

📺 https://t.co/AD6rpToIvP pic.twitter.com/YFTmINdbrj

— ESL UK (@ESLUK) June 24, 2019
Fierce v Royals
A win for Fierce Esports would guarantee their place in the live finals while Royals were still contending for a spot in the playoffs.
Royals came out swinging on the CT-side of Overpass, taking an 8-2 lead over the league leaders but Fierce managed to respond to end the half just one round behind.
Early T-side round victories for Royals halted the Fierce comeback briefly before Fierce leveled the game at 13 rounds apiece.
Taking nine consecutive rounds, Fierce completed the comeback to win 16-13 and secure their place in the live finals of the Summer season.
WHAT A SHOT @AstrooCSGO 🤯 #ESLPrem

📺 https://t.co/anJvvnY9NV pic.twitter.com/TARLgNSEFT

— ESL UK (@ESLUK) June 24, 2019
Pensioners v Endpoint
Endpoint could secure the second spot in the live finals with a win over Pensioners and former AWPer Luzuh.
It was a back and forth opening on Inferno with very little control from both sides. Eventually, Endpoint began to establish some control and ended the half 10-5 to the good.
Thanks to some impressive mid-round calls, Endpoint managed to take hold of the game, securing the win 16-6 despite the close start.
That was CLEAN @lainnye @ardiisCS 👏

Perfectly played crossfire from @teamendpoint! #ESLPrem

📺 https://t.co/anJvvnY9NV pic.twitter.com/uFNAGZ8xzF

— ESL UK (@ESLUK) June 24, 2019
Buzzkill v Vexed
Rounding out week seven would be Buzzkill attempting to avoid relegation against Vexed.
After multiple clutch rounds towards the end of regular time, there was little to separate the two sides in what was a highly competitive game.
Eventually it was Buzzkill that managed to close out the game 19-15 to end their season with a win. They will join Reflex in relegation while Vexed qualify for the playoffs.
OVERTIME! @JsavCS goes huge to keep @BuzzKill_ alive! #ESLPrem

📺 https://t.co/anJvvnY9NV pic.twitter.com/ie1t14eztO

— ESL UK (@ESLUK) June 24, 2019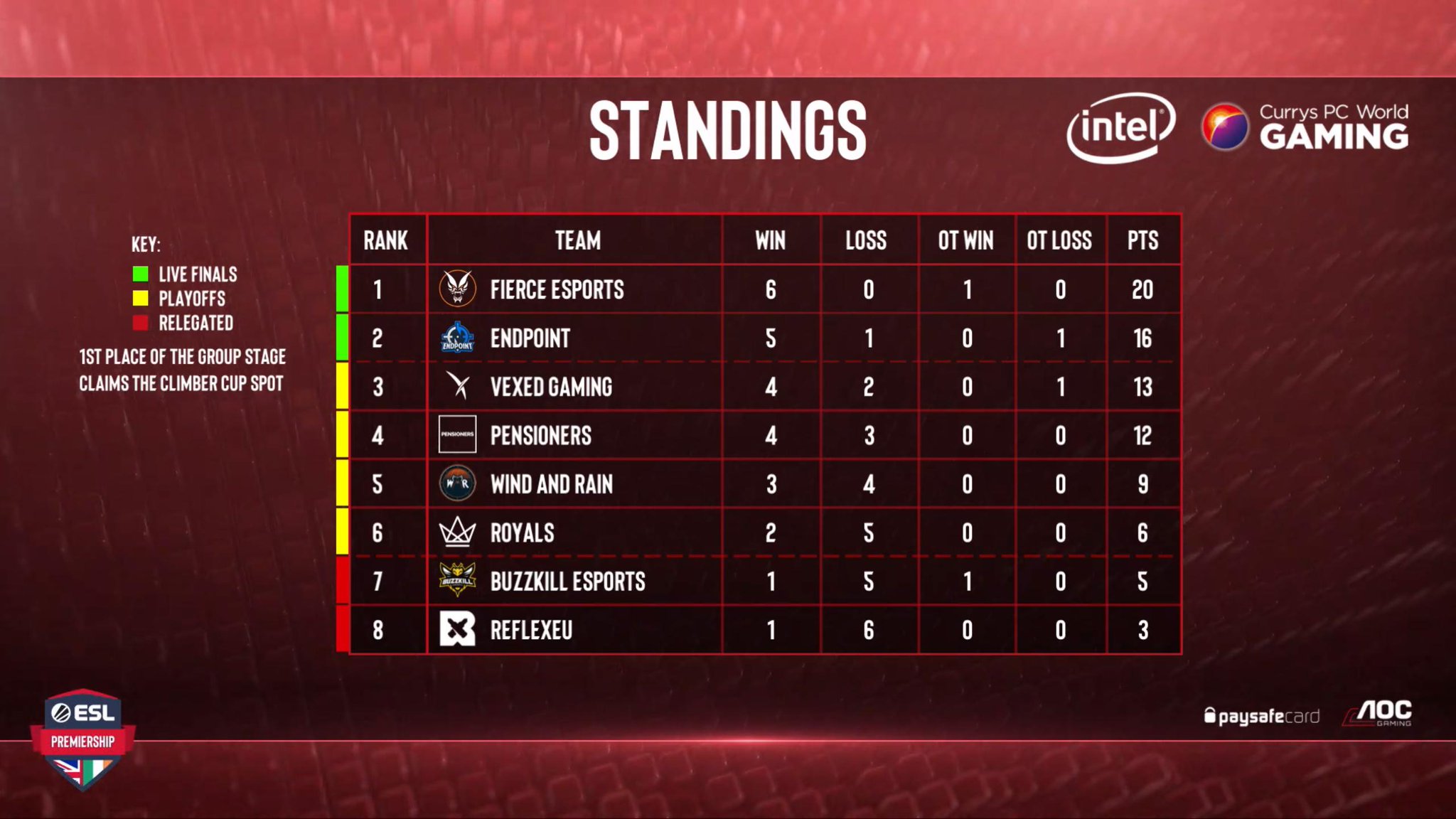 Fierce Esports managed to remain unbeaten despite a scare from Royals. Joining them in the live finals will be Endpoint.
Pensioners, Wind & Rain, Vexed and Royals all qualify for the playoffs while Buzzkill and Reflex will have to battle through relegation to qualify for next season of the premiership.
Keep up to date with all things UK CS by following us on Twitter: @ukcsgo