Here is a roundup post of where we are at in terms of all the biggest leagues and events in the UK currently. I will be going over ESL Premiership, Gfinity Elite Series, Multiplay's UK Masters and of course the ESEA Open United Kingdom division. It should detail who is doing what in each respective league, and who are the biggest winners and losers to date.
Our coverage at UKCSGO has been a little lackluster of the biggest leagues taking place in the UK in their recent seasons, and whilst I don't want to name many different excuses we could throw out there, it's just been a hectic time doing other things. So instead I wanted to wait till at least playoffs and/or finals and give you guys (our readers) a little run down of each of the leagues, and how they have progressed, and who is in what with what lineup.
Please note that lineups maybe incorrect due to incorrect listings on the official websites relevant to each of the respective leagues.

Teams & Lineups:
Fish123 – Roma, Robiin, yNc, MiGHTYMAX, smooya (Subs: Sliggy, batham)
Method – nEiLZiNHo, Jenko, weber, stan1ey, Puls3 (Subs: MCK, Whindanski)
Team CeX – LiamS, Astroo, L1NK, Hemzki, Danceyz (Subs: Resu)
VEXED – SHEEKEY, Shaney, Lumji, JT, Vanity (Subs: SKUXZ, Ozzy)
JACK3D – celld, adam, lambi, toffer, tesqu0 (Subs: kpiz, m1sfit)
OHYEA – Cruc1al, flashie, mole, ZED, Kryptix (Subs: Pickles, NeiL_M)
Reason Gaming – HoodluM, Thomas, kARMApangYa, Kray, CINDER (Subs: Mase)
Team Infused – Disqualified at end of season, N/A
The league stage has completed, and in the last week, the playoffs commenced and we now know which two teams are heading to insomnia61 later this week. Of course there was plenty of controversy this season, and it came to a close late last night after fish123 had apparently got the impression they were to be forced to play 4v5 on stage later this week against Team CeX. Of course, the admins decided otherwise and gave the problematic team a 20% deduction from their prize money as a result of roster instability.
Here is the final standings from the league season:
As we can see here, it was fish123 who finished on top of the table with a point cushion over Method. Whilst Team CeX were third with a good 7 point cushion over everyone else in the league stage, showing an absolute division of quality between the Top 3 and the rest of the league. The league stage was fairly comprehensive, as Team CeX proved in Week 1, as they ran out 16:1 & 16:10 winners over OHYEH. They then followed that up with a 16:5 & 16:6 win over VEXED. It wasn't until Week 3 we really saw the slips and spills you would usually see in a league season. Reason Gaming ended up drawing their series against the team at the bottom of the table, Team Infused (where ironically it was the only match of the season they got points from). It ended up being 16:7 on de_cbble & 19:22 on de_inferno.
Fish123 ended up taking map 1 against Team CeX, before capitulating on the second map, which meant they tied their match, with a 16:8 de_inferno & 13:16 on de_mirage. Method scored the only win of that week with a 2:0 series against OHYEH 16:12 de_cbble & 16:14 de_cache. VEXED struggled to really close out the series against JACK3D and after winning a comfortable first map de_mirage, it was de_cbble where they failed to get much, losing 14:16.
Week 4 saw it become the week of forfeits, whilst League Of Legends seemed incredibly willing to have teams drop out left, right and centre causing mass chaos, Counter-Strike had been proving quite dependable, but mid-season, saw issues crop up, which saw Team CeX claim a default win over Infused, and Vexed take a default win over OHYEH. Meanwhile fish123 were comfortable against JACK3D with a not so close 2:0 victory, 16:5 & 16:7 on de_cbble & de_inferno respectively. Finally, Method cruised on Map 1 against Reason, but Reason did storm back and try and push Method in the second map but ultimately lost and with that lost much of a chance of making playoffs, as they lost 16:5 & 19:15 on de_cbble & de_mirage.
It was Week 6 before Method finally dropped a map in a series, after being for the previous five weeks, the team that was cruising, they came up against a revitalised Team CeX, who took de_overpass 16:11. The second map was much more tense and close as it went to Overtime on de_mirage before one team came out on top which was Method with a 25:21 win.
The final week of the normal season, saw Team CeX really slip up in a match that they should have really won. They played against JACK3D, dominated on de_train 16:8, but were polar opposite on de_overpass with a cagey 14:16 loss. OHYEH picked up a rather strange comfortable win to end their season even though in reality it meant very little. They smashed Reason 16:5 & 16:3 on de_train & de_mirage. VEXED got a default win against Team Infused, whilst the final match of the season would see the winners clinch top spot in the league and thus the top seeding going into the playoffs bracket. Method's cagey tie from Week 6 saw that come back to haunt them as they simply couldn't pluck up the necessary win here against fish123, and it was fish123 who really showed who was boss as they managed to grab a 16:11 & 16:11 win over Method on de_overpass & de_cache.
The playoffs came last week, and with that the four teams were as follows, fish123 (1), Method (2), Team CeX (3) & Reason Gaming (4). It should be noted that Reason managed to get a playoff spot due to the issues around default wins, and not being able to find a fair and balanced system to separate teams properly. This then resorted in a Mini Group Stage playoff to reach the playoffs, where Reason Gaming came out on top by beating VEXED & JACK3D.
Here is how the playoff bracket went: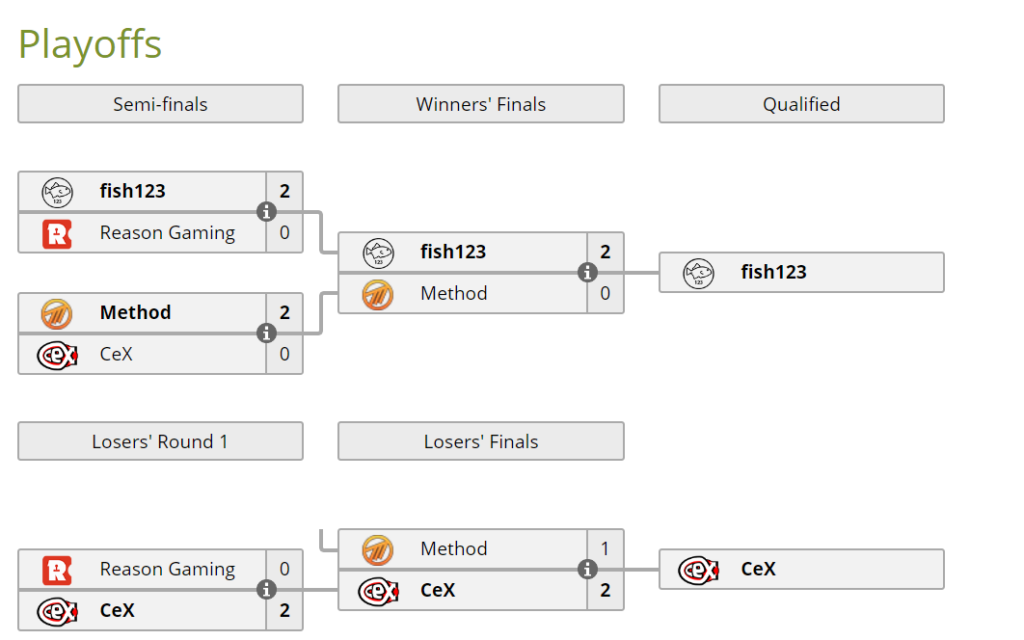 This meant that Team CeX and fish123 qualified for the LAN Finals at insomnia61 later this week. fish123 have since been picked up by Radix eSports and despite roster issues, have found a finalised roster for LAN.

Teams & Lineups:
Team CeX – Domm, Hemz2k9, LiamS, Astroo, Danceyz
Reason Gaming – fre1, HoodluM, Kray, CINDER, kARMApangYa
Team Endpoint – Immi, MiGHTYMAX, MCK, Ruleh, smooya
Radix eSports – ecls, dreaming, kpiz, neph, ANGRY
exceL eSports – conoR, Boaster, jakem, Luzuh, Whindanski
fish123 – Skuxz, ZED, batham, roma, tsack
Method – CRUC1AL, Surreal, nEiLZiNHo, Puls3, Jenko
Team Descend – Adamxoxo, Pommey, Tesquo, Philo, wh1sk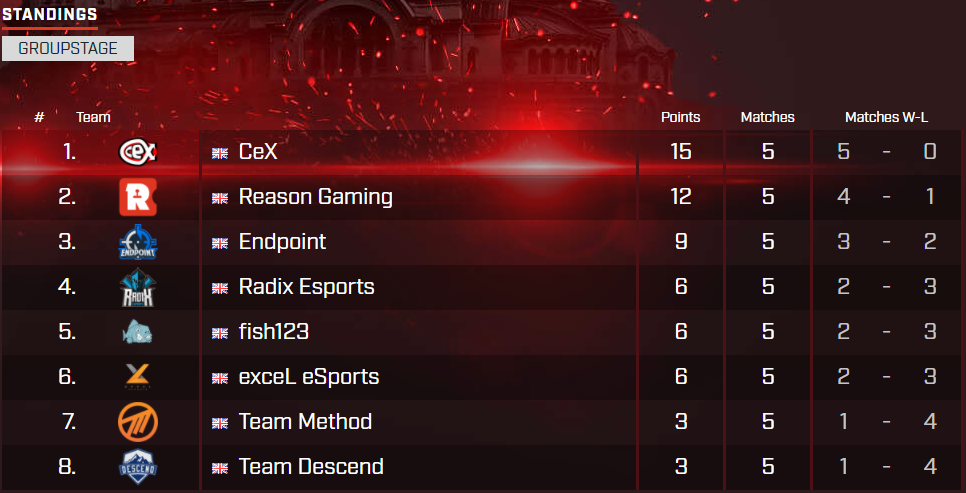 The league season is nearly complete, and with the recent announcement that the finals will be at EGX in September this year, we should know fairly soon who will be making the trip to Birmingham for the finals. Team CeX currently top the pack with a 100% win record at 5 wins from 5 matches. Meanwhile it is Reason Gaming who are second placed currently chasing Team CeX. They have a comfortable position over everyone else right now with Endpoint who are in third place, and Radix eSports rounding out the Top 4 currently.
It was Team Descend who took a rather surprising early league tale to the audience, with a narrow 16:14 win over Method on de_mirage in Week 1. However since that opening season result, they have been overwhelmed by everyone else and are since on the bottom of the table with 1 win and 4 losses to their name.
Team CeX have looked incredibly solid throughout the campaign, however their Week 2 match against Team Endpoint was extremely pivotal as they overcame them on overtime on de_train in a mammoth game of 31:28 there. Since then they have been truly unstoppable and last week saw them stop Reason Gaming in their tracks with an impressive 16:12 win on de_mirage. You could say this is their season to lose at this point, but we still have two matches left of the current league season, and then it is the pressured finals at EGX which is a whole different ball game altogether.

Teams & Lineups:
Team EnVyUs – Hadji, Petiskel, Lambert, Jackz, Vkll
Reason Gaming – HoodluM, Thomas, kARMApangYa, CINDER, Kray
Prophecy – KoloRRR, Arch, Quix, Slap, Kalle
Method – nEiLZiNHo, Weber, Jenko, Puls3, Stan1ey
exceL eSports – conoR, Boaster, jakem, Luzuh, Whindanski
Team Endpoint – Immi, MiGHTYMAX, Kryptix, JESP, Pickles
Team Infused – redSNK, Aaron, MCK, EC1S, FRE1, Trials
Epsilon eSports – Cosmeeen, Smooya, Maeve, BARBARR, FreddieB
Gfinity exploded this year with their announcement of what was to be some huge investment levels for the UK esports scene, with salaries and a new draft concept from the early CGS era. Whilst some of us are still skeptical of how Gfinity's long term investment plan will hold up, the league season has seen a greater emphasis on production values unseen in the UK and has had a brand new studio put in play. Not only that but BBC and BT Sport are now airing the league on BBC Three and the BT Sports channels.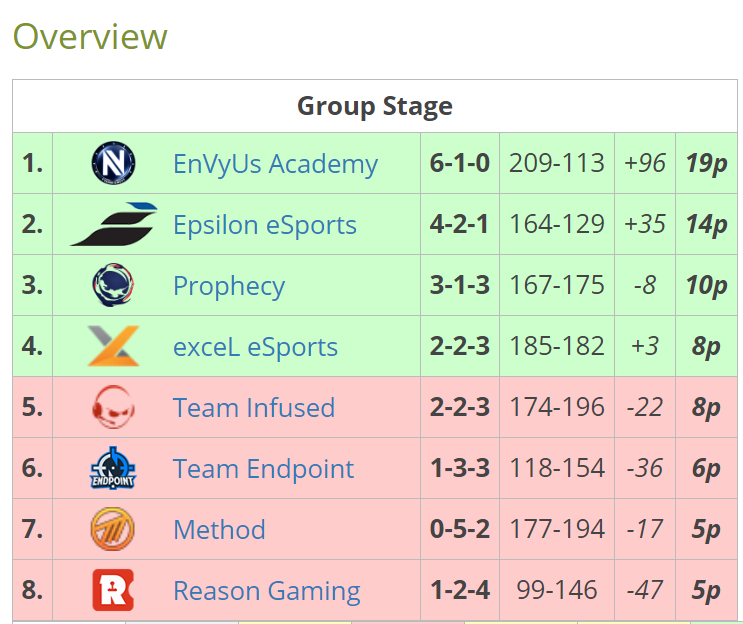 Team EnVyUs have been not so surprisingly cruising their way to the title, they've picked up 6 wins and drawn 1 so far, which means they have 19 points thus far. Meanwhile Epsilon have been in cruise control too, they are five points behind the league leaders, but four ahead of their next opponents which is Prophecy. Rounding off the playoff places is exceL eSports who managed to secure their spot in the playoffs in the final week as they beat Team Infused, whilst Team Endpoint ended up slipping up in a rather nasty way as they lost a 11:4 lead over Reason Gaming on Map 1, to lose 16:14 and 16:10 to them.
Playoffs begin this Saturday (smack bang in the middle of insomnia61), and will feature Team EnVyUs Academy, Epsilon, Prophecy & exceL eSports.
Playoffs – Saturday 26th August from 12:30pm
Team EnVyUs Academy Vs Prophecy
Epsilon Vs exceL eSports

ESEA Season 25 is coming to a close just about, and with 132 teams competing in the Open Division for UK, it is just the 32 teams who go through to the end of season playoffs to decide which teams will be going into ESEA Intermediate (the top 16), and ESEA Main (Top 4), so a lot on the line for some of the teams.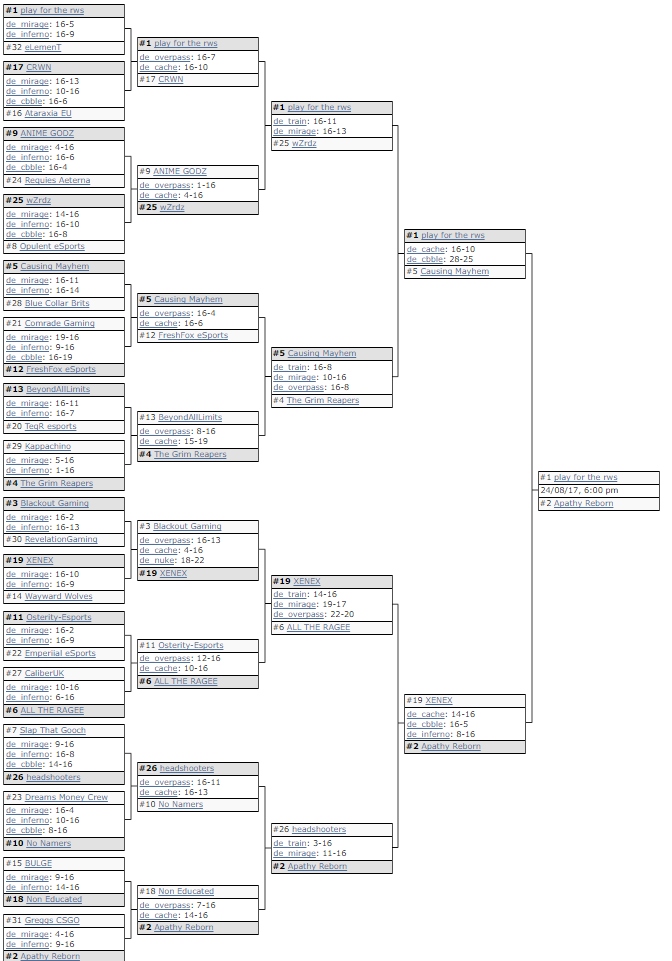 It was a hugely packed season though, with Team XENEX, the biggest name in the ESEA Open Division, they had a lot of points to prove since coming out as runners up of insomnia60 earlier this year. They had a pretty solid season, but they kinda crashed out in the bracket to a team named "Apathy Reborn", shame it wasn't the old Welsh lads otherwise I'd have a bit of a storyline (for those not in the know, there was a group of lads who played Counter-Strike Source under the name of Apathy). However, the season has seen quite a few no namers make a bit of a name for themselves and thus progress to the next stages of ESEA.
Of course from next season onwards, ESEA will be giving spots to the ESL Premiership for those teams involved in ESEA Open Division for UK. So once again a lot more for teams to play for in the upcoming new season.
Stay tuned to UKCSGO as we will be giving some kind of coverage of insomnia61 this weekend, and future events over the coming months. Don't forget if you want to submit a piece of relevant UK Counter-Strike news, then you can do so through our "Submit News" feature found on our website.